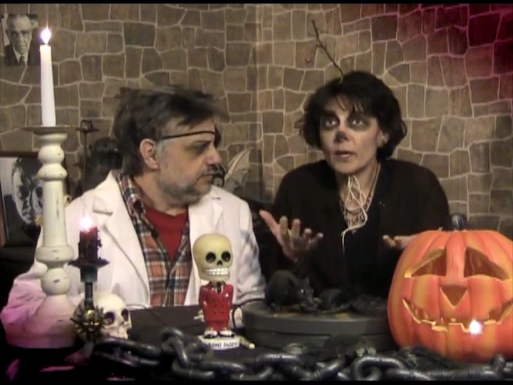 TRICK OR TREAT WITH BETA MAX TV AND THE DUNGEON OF DR. DRECK!!!
Our month-long Beta Max TV Halloween celebration continues with another house call from Dr. Dreck, Moaner and their creepy companions on The Dungeon Of Dr. Dreck! Their feature presentation today is a spooky Italian horror film from 1964 based on Le Fanu's classic vampire story Carmilla and entitled TERROR IN THE CRYPT. A woman, stranded at a castle after a carriage accident, finds the daughter of the owner may be possessed by the murderous spirit of an ancestor. Starring Christopher Lee.
And it's Halloween, so Moaner is all revved up to go Trick Or Treating. Only problem is – there's a hurricane raging outside the Dungeon. But that won't stop a real Halloween fan!!!
Possession, a spooky castle, Halloween night, a hurricane, and a bunch of visitors. It's a full night of Halloween action for TERROR IN THE CRYPT on The Dungeon Of Dr. Dreck – today's installment in out month long Halloween B-movie party on Beta Max TV!!!