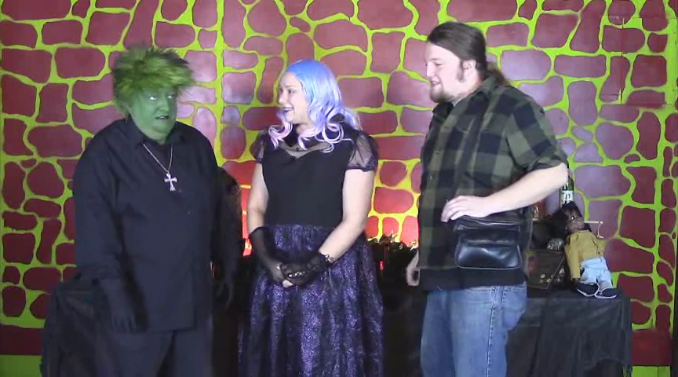 SURF THE "WEB" WITH THE BORDELLO OF HORROR ON BETA MAX TV!!!
Around Halloween, webs seem to appear – even on Beta Max TV! Big webs. Big, funny colored, glowing webs. Just the kind you might expect to be made by giant radioactive spiders. And that's just the kind of beastie you'll find in the Bordello of Horror's feature presentation of HORRORS OF SPIDER ISLAND (aka – "Girls Of Spider Island" – 1960). A group of exotic dancers and their manager on their way to Singapore crash into the ocean and find themselves stranded on a deserted island. Deserted except for a dead professor – found in a giant spider web – and the giant spider that bites the girl's manager. He doesn't turn into a super hero though. Rather something more along the lines of a super mutant murderous half-man, half-spider creature (you know the type!). And then things get interesting!
Freakshow and the Bordello bunch get a visit from a photo-journalist who says he can help them with their "exposure" and "footing". But is that a good thing? Freaky also welcomes musical guest Creepshow to play their song The Devil's Son.
HORRORS OF SPIDER ISLAND on the Bordello of Horror. It's a web you'll spend an eternity on once you get caught up in it!. Another treat for the last days of Octoboo-er on your home for Halloween B-movies… Beta Max TV!!!