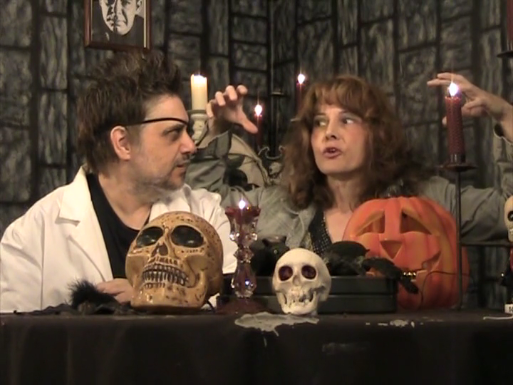 A WEDNESDAY SHOW SO SCARY WE MOVED IT TO SATURDAY!!!
OK, so even we here at Beta Max TV don't know what that means, but we do know we've got a Special Scary Saturday Halloween presentation from our old friends at The Dungeon Of Dr. Dreck!!!
Someone has to stay at the Dungeon to give candy to Trick Or Treaters. And this year, that someone is Dr. Dreck! So while Moaner (in one of the scariest costumes you'll ever see) goes out for goodies, Dr. Dreck shares a scary sample of B-horror from 1958 called TERROR IN THE HAUNTED HOUSE. A woman tormented by nightmares of a haunted house finds herself staying in that very house and discovering there is more to fear than just a bad dream!
And nightmares come not in dreams but right to the front door for the beleaguered Doctor – not to mention the horror of the un-openable bags of treats!!! Fun, frights, and fiends abound in our special Scary Saturday Halloween edition of The Dungeon Of Dr. Dreck on your Halloween home for Boo-Movies…and more!!!  Beta Max TV!!!