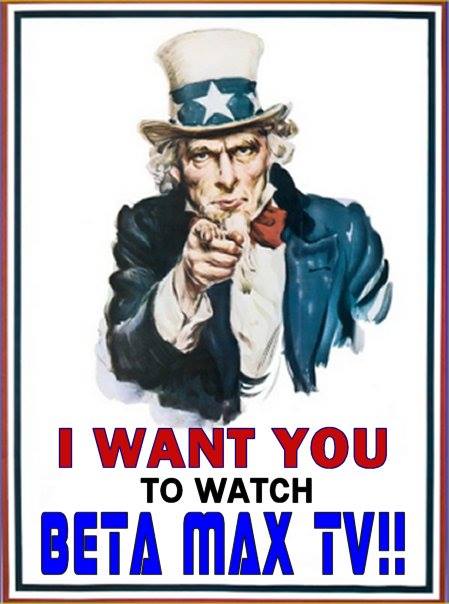 JULY 4, 2018
BETA MAX TV CELEBRATES AMERICA'S BIRTHDAY WITH A SALUTE TO THE RED, WHITE AND BLUE!!!
It's Independence Day! The Fourth Of July! Happy Birthday good ol' U.S. of A.!!! And to do our part for the celebration, Beta Max TV has a special salute to the Red, White, and Blue with a melting pot of features from the red, white, and blue of B-movies and classic television!
For the red: Two helpings of animation about that little girl known by her outfit – Little Red Riding Hood. From 1949, THE STORY OF LITTLE RED RIDING HOOD – a colorful rendition of the classic tale produced and animated by the legendary visual effects master, Ray Harryhausen. Then, Red strays a little from the traditional story line in the 1931 Van Beuren Studios cartoon RED RIDING HOOD. When Grandma takes a dose of Jazz Tonic, she's soon up and dancing with Mr. Wolf. But Mrs. Wolf might have something to say about it!
For the white, we go from cheap wolves to the choicest gorillas in WHITE PONGO (1945). A missing explorer's diary offers proof that the legendary white gorilla missing link exists and a team of adventurers sets out to locate the beastie – some with evil intentions. Featuring Western B-movie hero Ray "Crash" Corrigan as White Pongo.
And for the blue, a decadent dessert from the shadowy streets of film noir. THE BLUE GARDENIA (1953) features Raymond Burr in his last roll as a heavy. After a woman (Anne Baxter) uses a fireplace poker to fend off the unwanted advances of a sleazy photographer (Burr), she fears she killed him when she reads in the paper that he was found dead. But there's much more intrigue involved here. Directed by Fritz Lang.
And finally, the sparkler on top of the birthday cake, a Beta Max TV production – THE RED,THE WHITE AND THE BLUE FROM THE GOLDEN AGE OF TELEVISION – a special tribute to some red, white, and blue in classic commercials with some patriotic music to boot!
Fill your Fourth with flavorful features as we salute the Red, White, and Blue today on Beta Max TV!