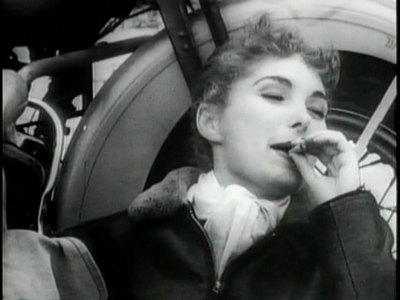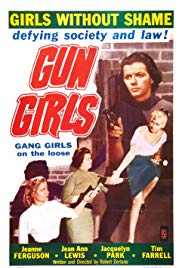 DELINQUENT DAME DOUBLE FEATURE!!!
IT'S EXPLOITATION MONDAY ON BETA MAX TV!!!
When it comes to dastardly deeds, don't disregard the denizens of the distaff department! Today on Beta Max TV, we have a dual dose of derailed debutantes in our Delinquent Dame Double Feature!!!
TEENAGE DEVIL DOLLS (1955, aka – One Way Ticket To Hell) is the story of Cassandra, a troubled teen with a shaky home-life. She falls in with a gang of lowlife bikers and soon takes to drugs. She tries to change her life by marrying her clueless high school sweetheart, but boredom strikes and it's back to drugs and trouble. In classic Beast From Yucca Flats style, this film was shot silent and all the narration and sound effects were added later. Classic story told in a wonderfully cheezy format!
GUN GIRLS (1957) features a flock of felonious females angry at the system (and angry at getting caught criminalizing) who team up in a gang. Terrorizing the streets of New York City – the little known part where all the palm trees are – their forte is armed robbery and assault. They get their guns and split the loot with their fence, Joe (Timothy Farrell), but tire of that and decide to try bigger and more lucrative crimes – with expected results. Side note – Timothy Farrell (Joe the Fence) was no stranger to exploitation films having appeared in numerous instances of the genre including Dance Hall Racket, Jail Bait and Glen Or Glenda.
The fairer sex? Well, maybe not so much today! It's a Delinquent Dame Double Feature on Exploitation Monday at your favorite place for B Movies…and more!!! Beta Max TV!!!