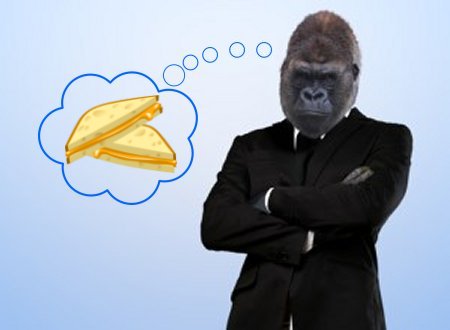 BETA MAX TV SERVES UP SOME "GORILLA'D CHEESE" FOR NATIONAL GRILLED CHEESE DAY!
National Grilled Cheese Day is April 12, so in honor of this festive-which-should-be-even-more-so holiday, Beta Max TV has TWO primate premieres!
The Ape (1940), produced and directed by William Nigh (native of Wisconsin, home of fine cheese!) stars Boris Karloff as a mad scientist! (Maybe a tad of a stretch there… like the filling of a fine grilled cheese sandwich!)
Directed by Harry L. Fraser, The White Gorilla (1945) is rehashed footage from the 1927 silent serial "Perils of the Jungle" with a plot thrown around it, the star power (?) of "B" Horse Opera legend Ray "Crash" Corrigan bringing it all together!
Grab some toasty melty snacks and go APE for GORILLA'D CHEESE DAY, this Wednesday on Beta Max TV!