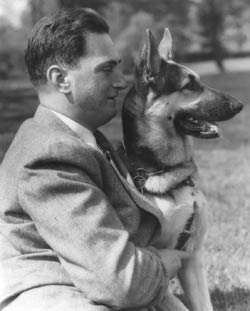 PICTURED:  Morris Frank and his best gal-pal Buddy, 
who became the first official guide dog for the blind on April 23, 1928!
DOGGONE HEROES in honor of INTERNATIONAL GUIDE DOG DAY on BETA MAX TV!
The last Wednesday of April is INTERNATIONAL GUIDE DOG DAY, and to honor our canine caregivers across the spectrum, Beta Max TV​ celebrates the day with a trio of treats dedicated to hero dogs!
EYES IN THE NIGHT (1942), directed by Oscar-winner Fred Zinnemann ("From Here To Eternity", "A Man For All Seasons") stars Edward Arnold as ace detective Duncan "Mac" MacLain. Deprived of sight, Mac relies on the keenness of his other senses, sharp insight, and assistance of his sidekick, his butler, and his faithful guide dog Friday to fight espionage and bring criminals to justice!
CAPTURED IN CHINATOWN (1935) focuses on hero police dog Tarzan helping to fight crime in the big city and bring peace (and a unifying wedding) to warring family factions!
Finally, the most popular long-term box office star of the silver screen, Rin Tin Tin was nominated as one of AFI's "100 Heroes and Villains" (as a HERO, naturally!) for his appearance in the 1947 feature THE RETURN OF RIN TIN TIN! Directed by Max Nosseck, Rinny's most notable co-star is Robert (aka "Bobby") Blake in the story of a boy, his dog, and villains seeking to separate them.
Celebrate the heartwarming heroism of dedicated doggies on Beta Max TV! We love those assistant, hero, and first-responder dogs and encourage EVERYONE to support organizations that train and care for these wonderful life savers and companions!