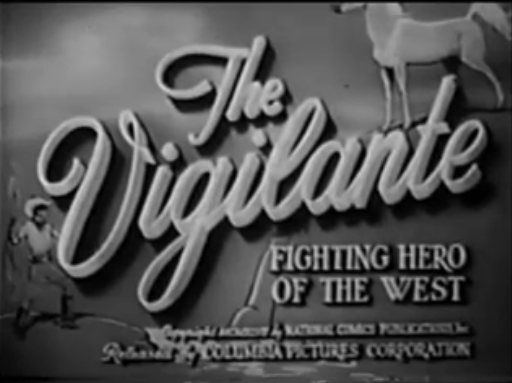 RIDING THE RANGE FOR RUSTLED RED – A NEW ADVENTURE FROM DON'S BREAKFAST SERIAL!!!
Tune in Don's Breakfast Serial for some four hooved, two-wheeled excitement in THE VIGILANTE – FIGHTING HERO OF THE WEST – Pt. 1. Don presents 6 chapters of this 1947 Columbia serial starring Ralph Byrd (best known as Dick Tracy in movies and serials) as Greg Sanders, a motorcycle riding special masked government secret agent whose secret identity is that of a western movie actor. (Based on a character appearing in Action Comics). Sanders is sent out west to investigate the smuggling of a rare – and cursed – string of blood red pearls called the 100 Tears Of Blood
There's stolen cars, stolen pearls, and a masked motorcycle marauder in THE VIGILANTE from Don's Breakfast Serial on your home for B-movies… and comic book heroes ya don't see much anymore! Beta Max TV!!!