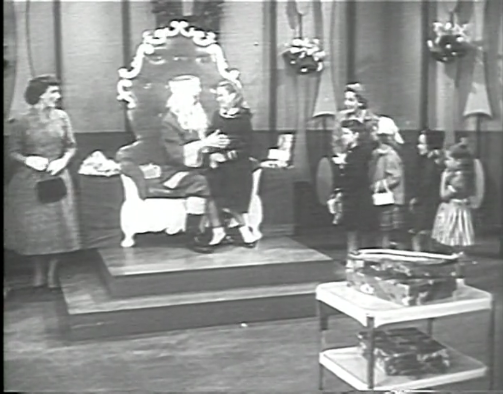 TOYS, CHRISTMAS GUESTS AND A COUPLE OF SANTAS TODAY ON A MERRY MONDAY DOUBLE FEATURE!!!
It's a Merry Monday on Beta Max TV and we've got a double feature of fun with two classic Christmas TV episodes from the Golden Age Of Television all wrapped up and ready!
First up is The George Burns And Gracie Allen Show episode – CHRISTMAS VISITORS  George is hoping for a peaceful Christmas but that may be hard to find when cousin Mamie and her children come to stay with George and Gracie for the holiday season. And yes, that IS George in the Santa suit! (1951)
And it's Betty White trying to make Christmas as special as she can in the Date With The Angels episode – SANTA'S HELPER.   Vickie's (Betty White) neighbor Mr. Finley wants to feel useful at Christmas so she gets him a job as Santa at the local department store where things go bit awry. Also starring Burt Mustin, Nancy Kulp, and Richard Deacon (1957)
A Santa here, a Santa there, and comedy everywhere today on another Merry Monday from your home for B-movies… and holiday hi-jinx!  Beta Max TV!!!