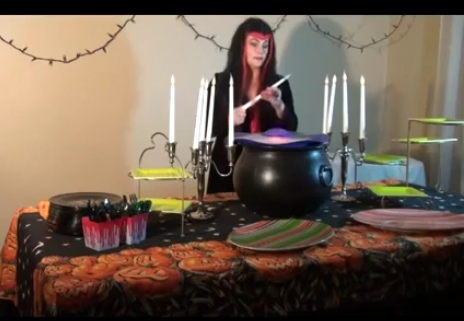 A PARTY WITH ARACHNA AND A GHOST WITH DR. DRECK ON TODAY'S DEMONIC DOUBLE FEATURE!!!
We've got a double dose of demonic delicacies for you today as Spooky Scary Month continues on Beta Max TV!!!
First, watch Alexis and Arachna of the Spider People from Beware Theater in FEARLESS COOKING WITH ALEXIS as they prepare a banquet of yummy creepy treats, give spooky decorating tips and show you how to throw a great Halloween party.
Then it's a trip to other realities and a visit from a ghost as the Dungeon Of Dr. Dreck presents GHOST STORIES _ THE SCREAMING SKULL. In this episode of a television anthology from 1973, a doctor (David McCallum) is haunted by his wife after her gruesome death. Meanwhile, it's Halloween night in the Dungeon and before trick or treating, Dr. Dreck & Moaner try Uncle Mess' device that lets them see parallel universes and some unsettling things!
Snackin' and scarin' is the order of the day with Dr. Dreck and Arachna on your home for B-movies… and demonic double features!  Beta Max TV!!!