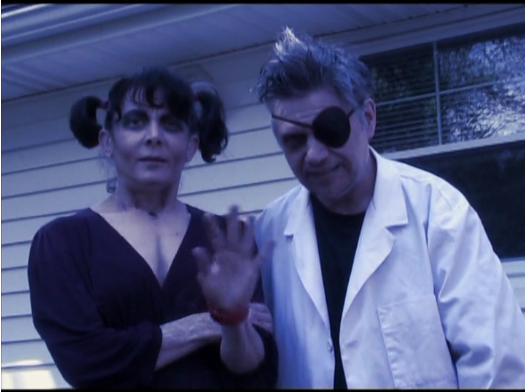 NO BONES ABOUT IT – THERE'S ACTION AT THE DRIVE-IN WITH DR. DRECK!!!
There are creepy crawlies killing people and a creepy guy selling insurance at the Drive-In for ISLAND OF TERROR on this week's Dungeon Of Dr. Dreck.  In this 1966 British sci-fi film, a medical research experiment goes wrong creating strange tentacled creature that feed on humans secreting an enzyme that dissolves all bone matter.  Stu and Willard steal Dr. Dreck's car to go to the drive-in leaving Dr. Dreck and Moaner to watch the movie from a neighbor's deck way outside the drive-in movie theater.  Meanwhile, Mr. Maniac is at the drive-in selling special "insurance" policies.
Dangerous creatures on and off the screen and a couple of car thievin' rats are hangin' at the drive-in in The Dungeon Of Dr. Dreck on your home for B-movies… and the occasional psychotic insurance salesman!  Beta Max TV!!!