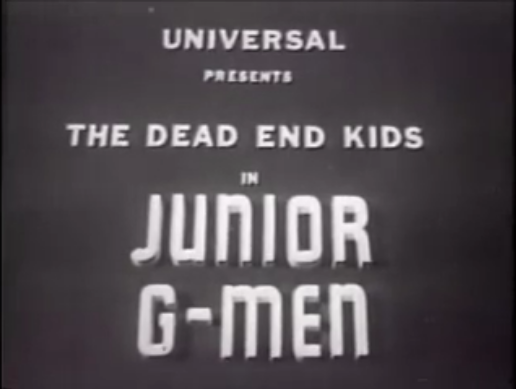 IT'S THE DEAD END KIDS VS. SABOTEURS – JR. G-MEN PT. 1 ON DON'S BREAKFAST SERIAL!!!
Stop by for a bowl of Don's Breakfast Serial for some Bowery tough guy action in JUNIOR G-MEN.  Don has chapters 1 – 5 of the 1940 Dead End Kids serial. The gang learns their leader Billy's scientist Dad is not dead as they thought but that he's been kidnapped by a terrorist group called the Flaming Torch.  So reluctantly, the gang joins the Jr. G-men to find him.  Plus the 3 Stooges are trying to find  a home.
Join the FBI – senior and junior – for excitement with Don's Breakfast Serial on your home for B-movies… and sneaky saboteurs!  Beta Max TV!!!