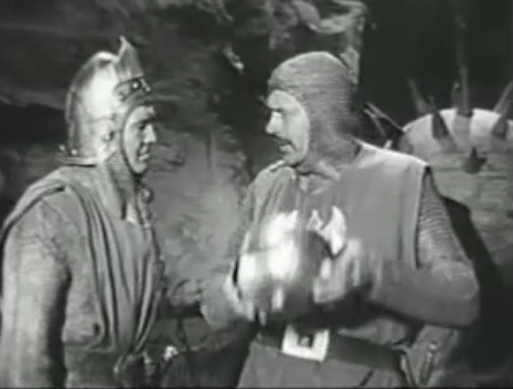 WILL SIR GALAHAD COMPLETE HIS QUEST? FIND OUT TODAY ON DON'S BREAKFAST SERIAL!!!
Tune in to the latest installment of DON'S Breakfast Serial on Beta Max TV as Don presents the exciting conclusion of the 1949 serial THE ADVENTURES OF SIR GALAHAD starring George "Superman" Reeves as the well known knight of the round table in search of King Arthur's stolen sword, Excalibur. Don also has Betty Boop's pal Grampy in a cartoon and an episode of the Dick Tracy television series entitled Shaky's Secret Treasure.
Good guys going at it all over the place this week in DON'S Breakfast Serial on your home for B-movies…and special swords!  Beta Max TV!!!