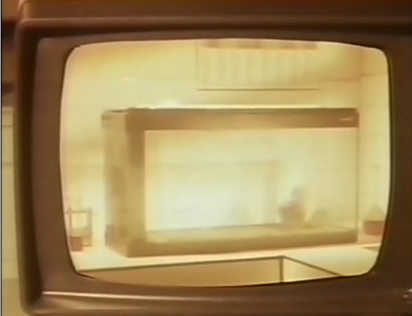 CAPTAIN KIRK VS. THE MONSTER OF BLOOD – TODAY ON BETA MAX TV!!!
The germ is the word today for Beta Max TV Monster Monday presentation of the 1982 Italian horror film PANIC!  Also known as Monster Of Blood, this Italian-made film set in England starts in a laboratory where experiments on dangerous new bacteria are going on.  Unfortunately, one of the scientists experiences a bit of an oopsie, the germs get out, the green goo covers his face, and the horribly disfigured monster of blood takes over where the careless scientist leaves off.  And of course, the monster is a homicidal manic too, just for fun!  And Captain Kirk?  Well maybe it's not the same one from the future but he's the head of the forces trying to stop the beast and maybe even wipe the whole city where the beast is rampaging right of the face of the Earth.  And no doubt he is an ancient ancestor of the starship captain (you be the judge)!
Cheezy plot, cheezy acting, cheezy monster – PANIC has it all!  And it's here for Monster Monday on your home for B-movies…and gooey germs!  Beta Max TV!!!