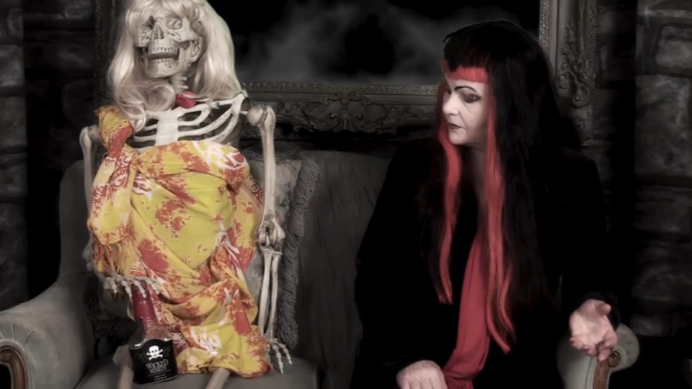 HERE A SPIDER, THERE A SPIDER, EVERYWHERE A WERE-SPIDER – TODAY ON BEWARE THEATER!!!
Arachna of the Spider People is in her element today – sort of – as she and her calcified crony Deadly host the Beware Theater presentation of HORRORS OF SPIDER ISLAND on Beta Max TV! In this 1960 West German cult classic horror movie, a talent agent and his sexy dance troupe crash land on a Pacific island where they are hunted by a giant spider who is killing people and turning others into werespiders who kill even more people! A film so bad that the director changed his name on the credits.
Arachna and Deadly head to the great outdoors to toast some marshmallows and tell scary stories. But they have an unexpected visit from a rather large, multi-legged visitor!
Stick around and get tangled up in the horror of Beware Theater's HORRORS OF SPIDER ISLAND on your home for B-movies…and the web! Beta Max TV!!!