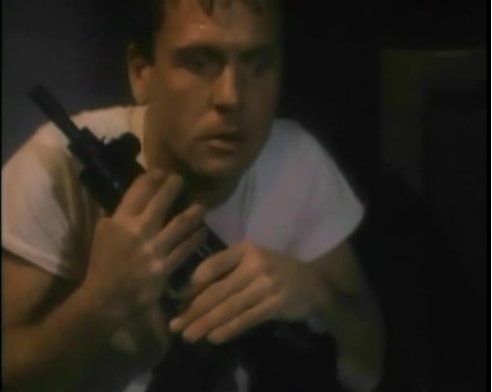 ARE THOSE VOICES IN YOUR HEAD…OR THE MOVIE? IT'S WACKO WEDNESDAY ON BETA MAX TV!!!
It's a Wednesday that makes Mondays look good! Join Beta Max TV for BLOODY WEDNESDAY (1987) today on Wacko Wednesday! Loosely based on a real series of events, Bloody Wednesday follows Harry, a psychotic man plagued by hallucinations. After he's fired from his job as a mechanic, he moves into an abandoned Hollywood hotel – that may be inhabited by ghosts – where he further degenerates and plots revenge on society. This is the only directorial outing for Mark G. Gilhuis – and with good reason. Watch for a cameo by well-know stunt woman/actress Marneen Fields as a waitress. And listen for Billy Curtis, star of the only all midget musical western – Terror Of Tiny Town, as the voice of Harry's teddy bear.
Give your midweek a twist with BLOODY WEDNESDAY, today's Wacko Wednesday feature on your home for B-movies…and weird teddy bears! Beta Max TV!!!