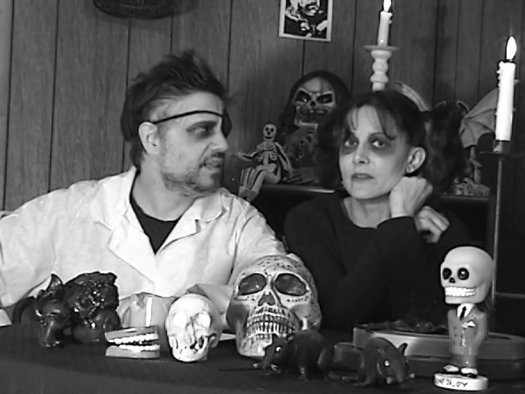 AN EVIL RANCHER, A BLOOD EATING PLANT, AND A SCARED RAT – TODAY ON THE DUNGEON OF DR. DRECK!!!
There's evil – and shopping – on Beta Max TV as The Dungeon Of Dr. Dreck presents the 1946 horror film THE SPIDER WOMAN STRIKES BACK. Gale Sondergaard stars as an evil rancher who pretends to be blind and hires a series of women to assist her with running her ranch empire. She slowly extracts the blood of her assistants to mix with spiders and feed to an unusual plant that produces an undetectable poison, using the poison to kill her neighbors' cattle so she can buy their ranches cheaply. Rondo Hatton also stars as the rancher's servant.
Dr. Dreck sends Moaner the Zombie Cheerleader grocery shopping, but he's not all that thrilled with what she brings home to eat. But while Dreck and Moaner plan a new grocery list, Stu the Rat overhears and mistakenly thinks they plan to eat HIM!.
There's treachery and horticulture today in The Dungeon Of Dr. Dreck presentation of THE SPIDER WOMAN STRIKES BACK on your home for B-movies…and blood-sucking botany! Beta Max TV!!!