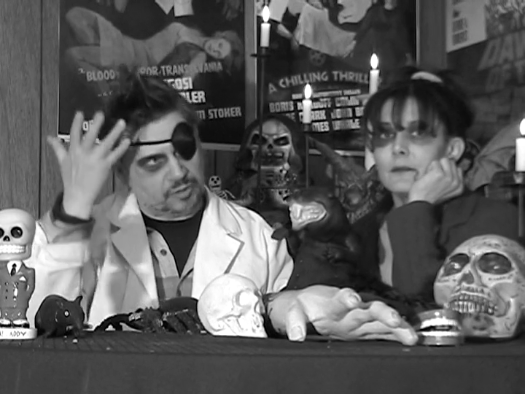 DR. DRECK GETS DREAMY…AND ELECTRONIC…TODAY ON BETA MAX TV!!!
Dreamin' is free, but today on Beta Max TV we find that dreams sometimes aren't all that dreamy! Join Dr. Dreck and  for THE ELECTRONIC MONSTER on this week's episode of The Dungeon Of Dr. Dreck. This 1958 sci-fi thriller stars Rod Cameron as an insurance investigator sent to look into the death of a movie star in the south of France. But as he gets deeper into his investigation, he finds this "accident" may be connected to 2 other suspicious deaths and all these deaths point to a private psychiatric clinic using a bizarre method of electronically induced dream therapy. (1958)
Back at the Dungeon, Dr. Dreck and Stu the Rat bemoan not having achieved their dreams yet in life – like not winning the Nobel Prize For Mad Science.
It's a dose of deadly dreams from the Doctor! THE ELECTRONIC MONSTER, this week's Dungeon Of Dr. Dreck feature presentation on your home for B-movies…and rapid eye movements!!! Beta Max TV!!!