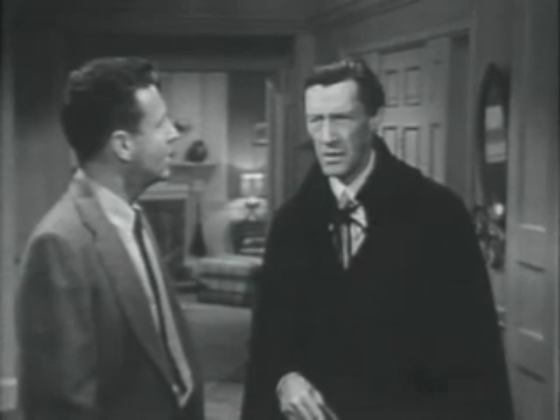 One of the most prolific actors of all time, and a favorite of Beta Max TV, with over 350 movie and television appearances to his credit, John Carradine was born Richmond Reed Carradine on February 5, 1906 in New Your City. After seeing a stage production of Shakespeare's The Merchant Of Venice, at age 11, he knew what he wanted to do with his life. He worked in a library film archive, as a sculptor, and as a portrait painter before making his way to join a New Orleans playhouse troupe and eventually to Los Angeles where he landed a job as a set designer for Cecil B. DeMille. DeMille, upon hearing Carradine's deep voice and excellent diction, hired him instead to do voice-overs for the movies.
Carradine's first credited role came in 1930's Tol'able David and the work became quite frequent after that. Best known for Westerns, Horror, and Shakespeare, he appeared in movies ranging from The Grapes Of Wrath, The Man Who Shot Liberty Valence, and The Ten Commandments to House Of Dracula, Psycho A-Go-Go, and the Astro-Zombies.
Today, Beta Max TV celebrates John Carradine's birthday with two examples of his work. First, we see the sinister Carradine as Gaston Morel, the title character in 1944's BLUEBEARD. Morel works as a puppeteer and a portrait painter but has a bit of a quirk connected to his painting. After he finishes a portrait, he strangles his model. And that cuts down on repeat business for sure!
Next, we see the Shakespearean Carradine in a bit of a lighter setting on THE ADVENTURES OF OZZIE AND HARRIET. In this episode from 1954 called AN EVENING WITH HAMLET, Ozzie, trying to give sons Ricky and David an appreciation for Shakespeare, decides to put on a production of Hamlet in his living room. His cause is aided by an unexpected visit from Carradine as a new neighbor asking directions who just happens to be an accomplished Shakespearean actor!
From homicide to Hamlet, it's a Happy Birthday celebration for John Carradine from your home for B-movies…and a bit of "The Bard"! Beta Max TV!!!