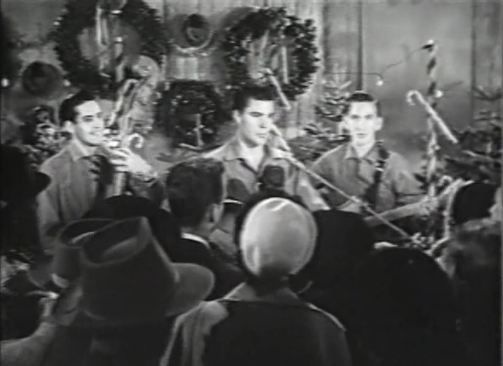 CATCHING THAT BAD GUY AND PICKING THAT PERFECT TREE – THIS WEEK'S MONDAY DOUBLE FEATURE!!!
Our month-long festival of holiday hits – and other stuff – continues with ample portions of action, comedy, and music on today's Beta Max TV Monday Double-Feature!
DON'S Breakfast Serial once again provides the action with the exciting conclusion of BLACKHAWK – Fearless Champion Of Freedom (1952). Blackhawk and his men close in on the mysterious Laska to reclaim the stolen Element X. Plus, Don has an episode of the NEW ADVENTURES OF CHARLIE CHAN (1957) and a SUPERMAN cartoon.
Then it's fun and fir trees on THE ADVENTURES OF OZZIE AND HARRIET. In this episode from December 1957, THE CHRISTMAS TREE LOT, Ricky and David find are broke but want to get Ozzie a Christmas present. So they decide to sell Christmas trees to raise some spending money. But when business isn't all that good, they add a little music to the mix and the project turns into a dance party!
Saving the world from evil and rockin' around the Christmas trees – it's what we do here at your home for B-movies…and Christmas trees! Beta Max TV!!!