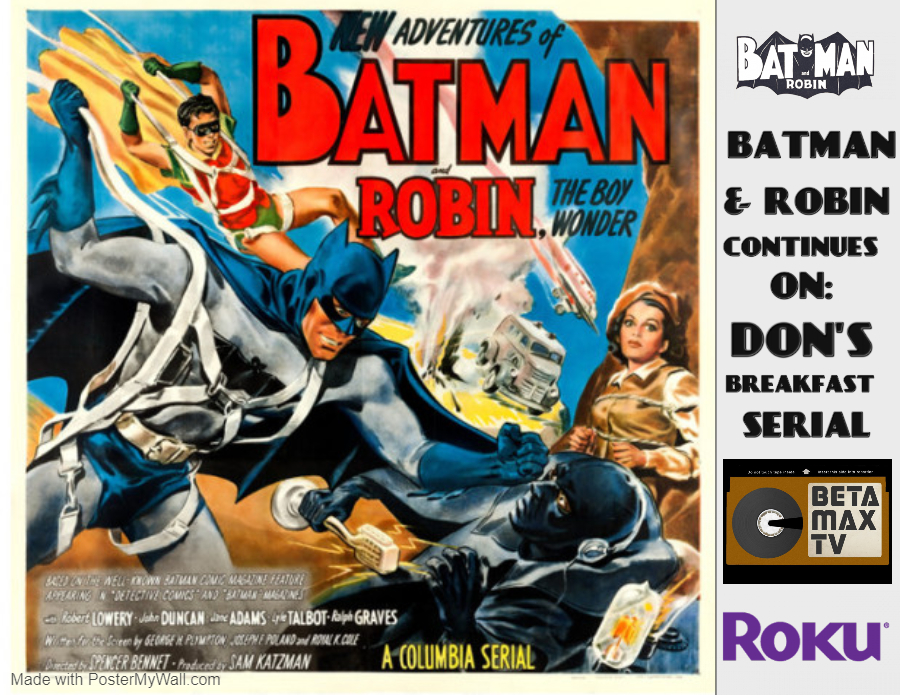 BATS AND BIRDS VERSUS EVIL – THE FINAL CHAPTERS – TODAY ON BETA MAX TV!!!
The evil Wizard has his final clash with that mysterious bat and his battling bird buddy in BATMAN AND ROBIN – Pt.3 on Beta Max TV today! DON'S Breakfast Serial presents the final 5 chapters of this 1949 action-packed movie serial where we will finally find if the Caped Crusaders can overcome deathtraps and deviltry to thwart the plans of the nefarious Wizard and his gang of murderers, cutthroats, and generally not very nice people. Plus, Don has an episode of the DICK TRACY television show that ran from 1950 – 1952. Ralph Byrd – the star of the Dick Tracy movies – reprises his role as the master detective in DICK TRACY AND FLATTOP.
Mystery, treachery, and crime are running rampant but we just might have a way to stop it. Tune in and find out with DON'S Breakfast Serial on your home for B-movies…and bats! Beta Max TV!!!