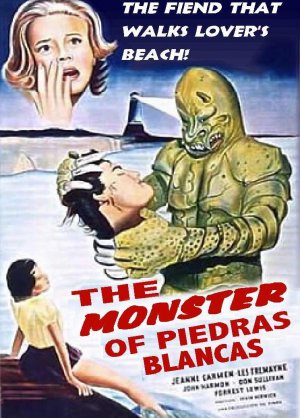 DON'T FEED STRAY MONSTERS – IT MIGHT NOT TURN OUT WELL!  FIND OUT MORE ON THIS WEEK'S BETA MAX TV MONSTER MONDAY!!!
Ever hear that saying – "You'd lose your head if it wasn't screwed on!"? Well, screwed on, bolted on, or stapled on might not make a difference if you head down to THIS seashore for a stroll! Join us for Monster Monday as Beta Max TV presents THE MONSTER OF PIEDRAS BLANCAS (1959). For years, a strange lighthouse keeper has been leaving snacks out for a stray monster that lives in a nearby cave. No one in the town really believes him about the monster, but when the monster's appetite gets bigger than the snacks and bloodless, decapitated bodies start showing up on the beach, the townsfolk start to reconsider. Sort of a Creature From The Black Lagoon for the beach – with more decapitations!
THE MONSTER OF PIEDRAS BLANCAS stars Les Tremayne, long-time actor and voice actor with credits ranging from The Angry Red Planet and King Kong Vs. Godzilla to Mr. Magoo's Christmas Carol and the Shazam! TV series. It also features Wayne Berwick as Little Jimmy. Wayne would go on to appear in such classics as Microwave Massacre and The Naked Monster and write for television series like Father Dowling Mysteries and Diagnosis Murder.
When you leave food out for a stray cat, the cat might never leave. When you leave food out for a stray monster, you just might lose your head! Call the shelter! But before you do, watch THE MONSTER OF PIEDRAS BLANCAS, this week's feature for Monster Monday on your home for B-movies…and hungry beasties! Beta Max TV!!!