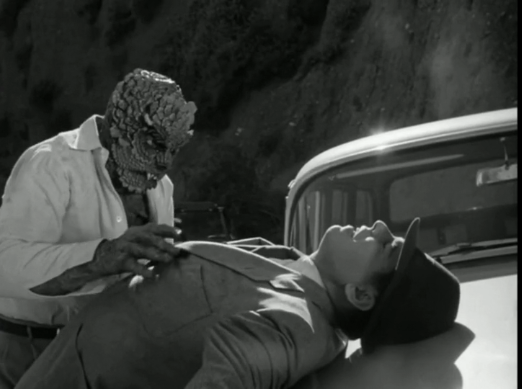 A CAUTIONARY TALE ABOUT TOO MUCH SUN EXPOSURE (AND MONSTERS) FROM BETA MAX TV!!!
Welcome to July! A hot, sunny, summery month with lots of outdoor activities. But be careful not to get too much sun! People who study these things say you should always use sun screen and the higher the SPF number, the better the protection. The trouble with our main character in today's Beta Max TV Monster Monday Feature is he used SPF U-238!
And that's why he's now known as THE HIDEOUS SUN DEMON! Dr. Gilbert McKenna (Robert Clarke) is accidentally exposed to a high level of radiation while working on a new isotope. He exhibits no ill effects except for one little thing – whenever he's exposed to sunlight, he transforms in to a hideous prehistoric lizard-man. And a lizard-man who kills anyone or anything that crosses his path.
THE HIDEOUS SUN DEMON, filmed on 12 consecutive weekends (the equipment rental was cheaper on the weekend) was quite the family affair for star/director/writer/producer Robert Clarke. In addition to a bunch of USC students, the cast consisted of Clarke's nephew, sister-in-law's fiance, mother-in-law and niece, and the featured song was written and performed by his sister-in-law (one of the King Sisters).
So be careful out in the sun this summer – especially if you've had a heavy dose of an experimental radioactive isotope! Be safe – watch THE HIDEOUS SUN DEMON (1958) – you won't need ANY SPF for this one on your home for B-movies…and lizard-men! Beta Max TV!!!