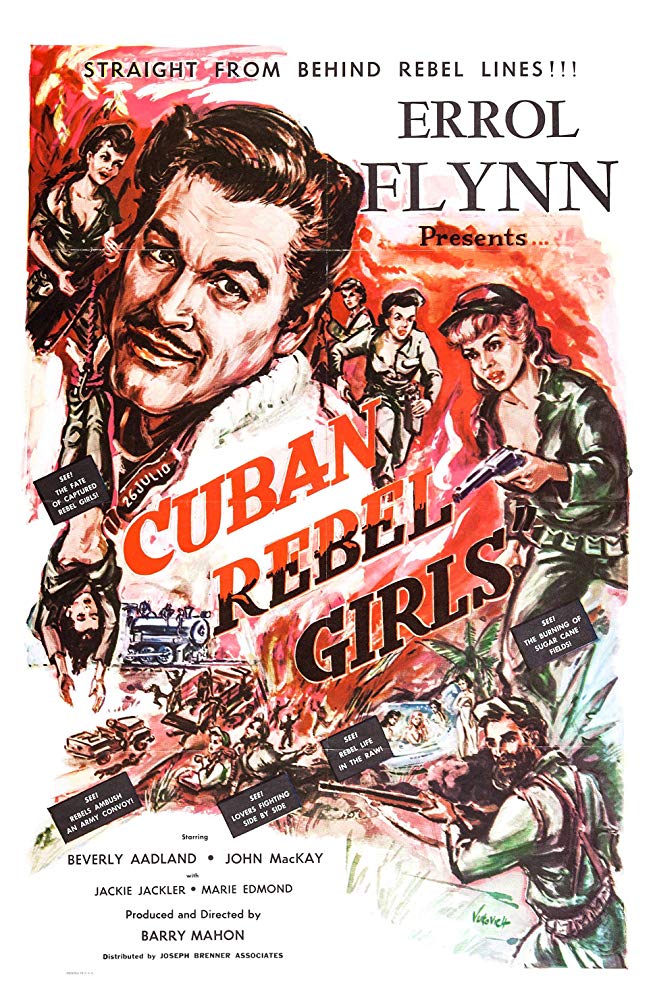 AN EXOTIC LOCALE AND A REVOLUTION ROLLED INTO ONE ON TODAY'S BETA MAX TV EXPLOITATION MONDAY!!!
Looking for a summer vacation destination? How about Cuba? Oh, that's right – ya can't go there. Remember back before travel there was banned? No, not 2 years ago – that other time. Namely 1959. Not only could you travel there but you could make low budget B-movies there too! And that's today's movie-cation on Beta Max TV's Exploitation Monday!
Last week we had a great (greatly bad) movie from exploitation staple Barry Mahon – producer, director, and also Errol Flynn's manager. This week, it's another dose of Mahon but this time WITH Errol Flynn. Produced and directed by Mahon and written and starred in by Flynn it's the rarely seen revolution drama ASSAULT OF THE REBEL GIRLS (originally called CUBAN REBEL GIRLS). Errol Flynn stars as Errol Flynn, sent to Cuba to do a series of articles on the fledgling anti-Batista revolution and its leader, Fidel Castro. Meanwhile two girls in the U.S. – supportive of the revolution – decide to take $50,000 and head to Cuba to buy guns and join up.
Yup, that's the plot. A merging of actual footage of the revolutionaries (used with Castro's approval) and some flat out low-budget "dramatic" footage shot to address the plot, CUBAN REBEL GIRLS also stars Beverly Aadland as one of the rebel girls. This was her first starring role and it probably didn't hurt that this 17 year old blond was Flynn's current girl-on-the-side at that time.
Sad note – this was Flynn's last movie.  He died after shooting was completed and before it was released while vacationing in Canada with a certain 17 year old co-star. He never did find out that Castro won, but hopefully he went out with a smile on his face!
Aadland's first starring role, Flynn's last film, Castro's last movie before he took over Cuba. It's another Exploitation Monday – or maybe it should be Mahon Monday – on your home for B-movies…and Revolutions!!! Viva la Beta Max TV!!!