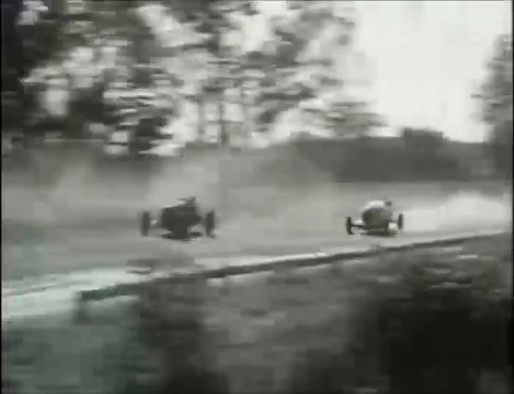 BICYCLES, CARS, CRIME, AND CORRUPTION – IT ALL FITS TOGETHER ON BETA MAX TV TODAY!!!
June 3rd is World Bicycle Day (whatever that means). So here at Beta Max TV, we decided to find a bicycle related movie. What we came up with was a movie about car racing, auto repair, political corruption and kickbacks. But it is related to bicycles too…sort of!
THRU TRAFFIC (aka SPEED DEVILS) was bankrolled by the Perfect Circle Company of Indiana. Perfect Circle started in the late 1800s when they invented a bicycle that could be ridden on railroad tracks. This bike made the railroad inspector's job much more efficient and was a huge success. In the early 20th century, Perfect Circle switched to making piston rings – a product they still manufacture today. In 1935, Perfect Circle decided to finance a movie about cars and in doing so created one of the first examples of heavy product placement. Their products and name are prominently featured dozens of times in the sets and the script. (note – this might be a good drinking game movie for every time you see or hear "Perfect Circle" in this film!)
THRU TRAFFIC follows the exploits of Martin and Dan, two rival race car drivers.. After they both crash during a race, they decide to join up and start a car repair shop. A couple of shady politicians approach our heroes with a scheme whereby they would split kickbacks for working on all city vehicles. When Dan agrees but Martin objects, the politicians try to break up the boys by using Dan's reporter girlfriend who has fallen for Martin.
THRU TRAFFIC was not only one of the first product-placement movies but was also one of a few dozen movies made specifically for the fledgling television industry in the 1930s. Plus, although this movie was released after the movie industry content code was in effect, listen for a few instances of salty language (approved by the Pennsylvania State Board of Censors too!).
Cars, Crime, and Corruption. And it all started with a weird looking bicycle! THRU TRAFFIC, today's rare find on your home for B-movies…and more! Beta Max TV