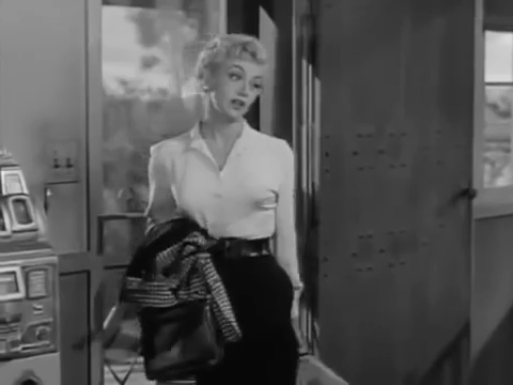 PINKY AND THE BOMB – TODAY ON BETA MAX TV!!!
Singing and dancing, thugs and a nuke, and some laughing gas – just the party favors we need for today's celebration on Beta Max TV.
Actress Jan Sterling was born in New York City this day (April 3) in 1921. Starting her career on Broadway as a teenager, she made her film debut in Tycoon in 1947 and soon had major roles in big films including Johnny Belinda, Caged, Ace In The Hole, Pony Express, High School Confidential, Women's Prison, and The High And The Mighty for which she won an Academy Award. SPLIT SECOND (1953) is a story of two men who escape from prison and take it on the lam. With an accomplice, they gather up some hostages – including dancer Dottie Vail (Jan Sterling) and head to a desert ghost town (population 1) to hide out. One of their hostages informs them the town is in the middle of an atomic test site, but the thugs don't believe him. Then the warning sirens sound and things really get hot! A film noir with a nuke, SPLIT SECOND was directed by Dick Powell.
On the other side of the coin, slapstick comedian Pinky Lee died this day in 1993. A Vaudeville-style baggy-pants comedian, he worked on the stage for years before making his big screen debut with the 1937 short DENTAL FOLLIES. Pinky plays a dentist with a unique idea – put on a floor show in your waiting room and your patients will forget about their pain and nervousness. Unfortunately, his idea works a little too well. Next, we have an episode of what he's best known for – the 1950s television children's show, THE PINKY LEE SHOW! Decked out in his signature checkered hat and coat and piecing together a series of frantic skits, variety acts, songs, and games, all while interacting with his live audience, he created an Emmy nominated hit that ran for 8 years. Featuring such side people as entertainer Molly B and comic legend Sidney Fields, THE PINKY LEE SHOW influenced such later TV stars as Soupy Sales and Pinky Lee. You can also see Pinky in his first full-length feature (with Barbara Stanwick), Lady Of Burlesque, already in our comedy section.
Atomic bombs and slapstick – a perfect combination, especially at your place for B-movies,,,and more! Beta Max TV!!!