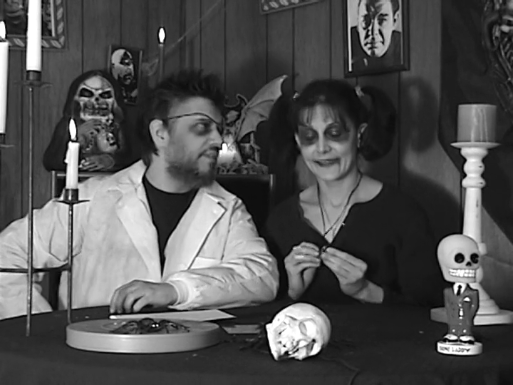 SPRING IS SPRUNG AND EVERYTHING IS TURNING GREEN – EVEN THE PLACE WHERE MONSTERS COME FROM ON DR. DRECK AND BETA MAX TV TODAY!!!
Beta Max TV welcomes the first day of Spring with a nature-filled episode of The Dungeon Of Dr. Dreck. It's a movie exhorting all the signs of the changing season – lush foliage, warmer temperatures, out-of-control radioactive rocketships, and of course giant killer wasps! From 1957, it's MONSTER FROM GREEN HELL! When a rocket carrying some experiments concerning wasps gets bombarded by radiation and crashes in the deepest African jungle, the wasps escape and grow to gigantic proportions. And of course they start killing people. as giant wasps are wont to do sometimes.
Dr. Dreck and Moaner welcome Shrunken Ed and Madame Nicotina who display some interesting artifacts from the lost city of Atlantis as Ed shows off his new leopard print hat. So throw off those winter woolies and warm up with the radiation in The Dungeon Of Dr. Dreck presentation of MONSTER FROM GREEN HELL, fresh today on your place for B-movies…and more!Beta Max TV!!!