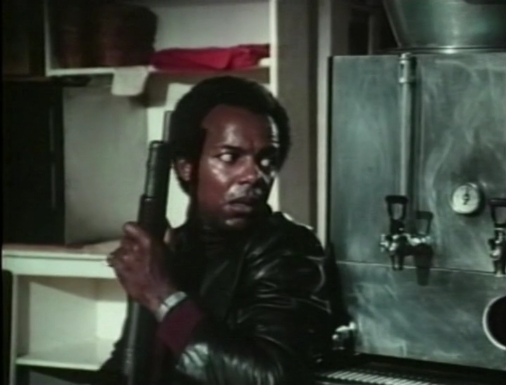 TIME FOR CRIME! THE BLACK GODFATHER TAKES OVER BETA MAX TV FOR EXPLOITATION MONDAY!!!
Beta Max TV has a movie you can't refuse for today's Exploitation Monday! It's the 1974 Blaxploitation classic THE BLACK GODFATHER. J.J. (Rod Perry) is a petty criminal who, with his friend Tommy, tries to heist the stronghold of a local kingpin. The heist goes very wrong, Tommy is killed and J.J. is wounded. He is saved by "Godfather" Big Nate (Jimmy Witherspoon). Nate likes his style and gives him a break which he uses to quickly climb the syndicate ladder and take control of the territory. But rival boss Tony (Don Chastain) has a lucrative heroin business that he's not about to relinquish. Throw in a crooked cop, and the fireworks really start flyin'!!!
THE BLACK GODFATHER, a Blaxploitation film with more plot than most, contains some notable actors. J,J, is played by Rod Perry who, in addition to appearing in several movies as well as episodes of Barney Miller and Good Times, stared as Sgt. Dave "Deacon" Kay on the television series S.W.A.T. Don Chastain spent several years on and writing for the soaps General Hospital, As The World Turns, Guiding Light, The Young And The Restless as well as appearing on shows like Alice, Rhoda, Hawaii 5-0 and S.W.A.T. And Jimmy Witherspoon, with several acting credits, is best know as a blues singer with an over 50 year career featuring the big 1949 hit "Ain't Nobody's Business".
It's action on the streets today as the "B" in B-movie stands for Blaxploitation on Exploitation Monday. THE BLACK GODFATHER – direct to you from Beta Max TV!!!