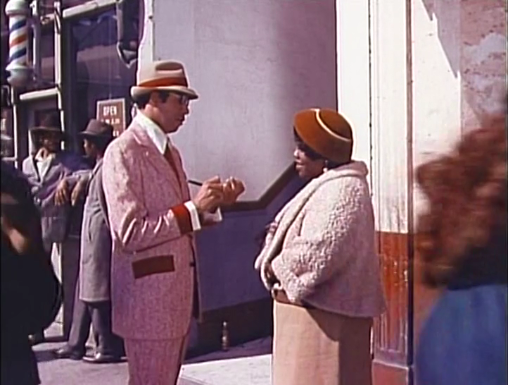 A BAD SCENE AND SOME "BAD" THREADS – THERE'S A GANG WAR UP IN HARLEM ON TODAY'S BETA MAX TV EXPLOITATION MONDAY!!!
There's big trouble up in Harlem and Beta Max TV has all the action on Exploitation Monday! In JIVE TURKEY (aka – Baby Needs A New Pair Of Shoes, 1974), the Mob wants more money and drugs and prostitution just ain't doin' it. So Chicago sends word to take over the numbers racket in Harlem. But that business is the sole property of Harlem kingpin Pasha (Paul Harris) and he's not about to give it up. Even the collective bargaining talks at Big Tony's restaurant haven't found a compromise – just some blood. So the war is on – and it's gonna be nasty.
Classic and almost forgotten in the world of Blaxploitation, JIVE TURKEY has a great soundtrack from Phil Moore, a one-time beau/promoter of the legendary Dorothy Dandridge, with composing, writing, and arranging credits from the 30s to the 80s. It also features Frank DeKova as Mob boss Big Tony. And if you think that name sounds familiar, you're right. DeKova made dozens of movie and TV appearances from the 50s to the 80s, generally as a heavy, with his most remembered role being as Chief Wild Eagle from the series F-Troop. And watch out for Serene (Tawny Tan, aka Don Edmondson) – she (he) is one nasty mama with razor nails and killer heels and she's no fan of the Mob!!!
Pick your lucky number and hope it isn't up in JIVE TURKEY -today's action-packed EXPLOITATION MONDAY offering on BETA MAX TV!
And as a SPECIAL TREAT – watch for the world premier teaser of the forthcoming Apology None movie – THE LAST PAGE OF SUMMER – exclusively, RIGHT HERE this TUESDAY on BETA MAX TV!!!