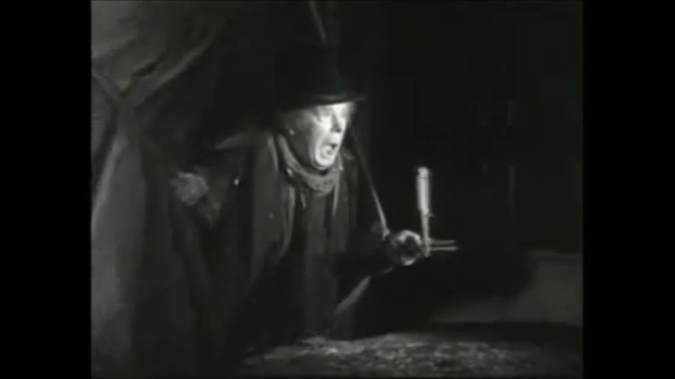 A VISIT FROM THE HOSTS AND THE GHOSTS THIS CHRISTMAS EVE ON BETA MAX TV!!!
It's Christmas Eve, and suddenly there's a strange and eerie visitor in your room. No, it's not another in-law come to spend a week, it's Beta Max TV and our special Christmas Eve presentation of the 1935 version of SCROOGE! This is the first full-length talkie version of the classic story "A Christmas Carol" by Charles Dickens. The title character, played by Sir Seymour Hicks, is a wrenching, grasping, old miser who has no use for Christmas or just about anything else but money. In a last ditch attempt to change Scrooge before it's too late, his long dead partner Marley visits him on Christmas Eve and tells him to prepare for visits by three spirits who will give him one last chance to avoid the eternal doom that awaits if he doesn't alter his life.
And, not unlike Scrooge, you too will be visited by an assortment of strange and eerie spirits. Except these spirits are all show hosts of many of the programs on Beta Max TV and they're here to extend holiday greetings to all our viewers.
As a special Christmas gift, at the start of today's Christmas feature is a Merry Montage of Seasonal Salutations from the fine folks who create some of your favorite Beta Max TV programs Including Arachna from Beware Theater, Dr. Dreck and Moaner from The Dungeon Of Dr. Dreck, Freezer Mortis from Formerly Crappics, Deadwest from ScreamingSoup.com, The gang from The Midnight Movie, Terry Summer from Apology None, Scarlett and CJ from Mansion of Mystery, Marquis DeBlood from The Horror Of It All's Silent Screams, and Uncle Pete from The Dark Vault Of Public Domain.
All in all, it's a very spirited Christmas Eve celebration from the Beta Max TV family of hosts and THE classic Christmas ghost story, SCROOGE. Our Christmas gift to all of you who make this fun, from your place for B-movies…and more! Beta Max TV!!!