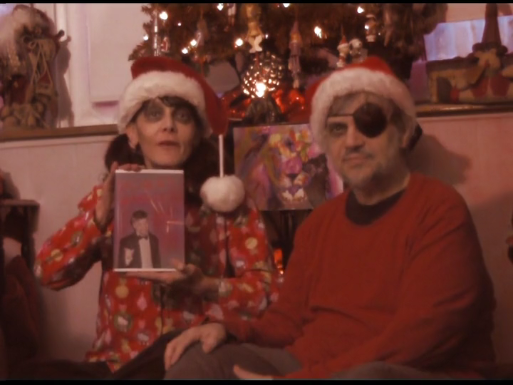 DRECK THE HALLS WITH MOANER'S MAGIC ON BETA MAX TV!!!
Here at Beta Max TV, we love the warmth of traditions. Like there's no better place to spend Christmas Eve than a festively decorated house. Even if it's not your house. And you weren't invited. And the owners aren't home.
That's just what Dr. Dreck and Moaner have decided to do in this week's The Dungeon Of Dr. Dreck! They've put on their jammies and borrowed someone's house for Christmas Eve fun, reminiscing of Christmases past – like Moaner's Christmas stocking from her youth, filled with yummy body parts – and trying out a few tricks from Moaner's brand new magic book,
Speaking of magic, there's more than a little in the feature THE RETURN OF CHANDU staring Bela Lugosi in the title role of the evil-fighting master of magic.
Christmas magic, movie magic, zombie magic…and a little breaking and entering. Another old-fashioned Christmas celebration from your friends at Beta Max TV