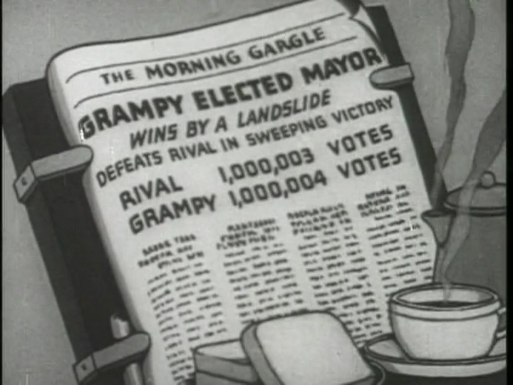 THE BETA MAX TV POST-ELECTION SPECIAL: THE GANG, THE CUTIE, AND A MEAN RICH KID!!!
The ads are over, the votes are counted, some folks are happy, some are not. So Beta Max TV figures it's a fine time for four forgotten films featuring fun looks at elections.
The first exposes some seedy dealings and a novel way of eliminating your opposition candidate – get his Dad a job out of town so he'll have to move. That's the plan the sneaky rich kid puts in motion when the better-liked Sonny Rogers wins the class president race in WHAT'S TO DO? (1933).
Our favorite cartoon cutie has always been so popular, it's no wonder Betty Boop gets involved with politics from time to time.. THE CANDID CANDIDATE (1937) finds Betty campaigning to elect Grampy as Mayor. In BETTY BOOP FOR PRESIDENT (1932), Betty makes her platform perfectly clear as she faces a challenge from a rather nondescript but all too familiar opponent named Mr. Nobody.
And finally, 'votes are where you find them' is the theme as Jay faces off against Joe in the Our Gang short ELECTION DAY (1929). It's a simple campaign – Vote for me or get a bust in the nose!
Wind down from Election Day stress with a handful of happy – or get 2 busts in the nose! Everybody wins this race on Beta Max TV!!!