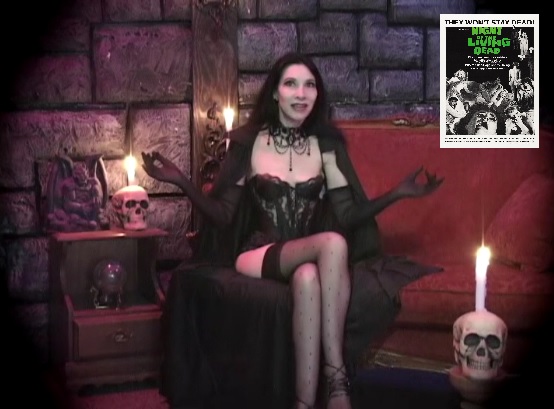 October 4, 2018
NIGHT OF THE LIVING DEAD TURNS 50! THE BETA MAX TV CELEBRATION CONTINUES!!! (Day 3 – Night Frights with Evelle LeChat)
It was 50 years ago this Thursday, October 4th, that George Romero's first feature film, NIGHT OF THE LIVING DEAD, opened in assorted theaters across America. It would be the first opportunity for people outside the Pittsburgh area to experience this gruesome, grisly ghoul-fest in living (dead) black and white!  And this Thursday, Beta Max TV continues its anniversary celebration to honor the granddaddy of modern zombie movies.
Thursday, Day 3, we wrap up our special salute with an episode of Night Frights Horror TV Show presented by the "Vixen Of Vamp", Evelle LeChat. Evelle brings her video vampaciousness to her presentation of NOTLD as well as a plethora of pop-ups during the movie to massage your mind with interesting information.
And of course, here's our tidbit of trivia to wrap up our trilogy. Flesh-eating Fun-Fact #3: The music tracks heard in the background during the early radio reports and as Barbra runs from the cemetery zombie were previously found in "The Devil's Messenger" and "The Hideous Sun Demon" (also available on Beta Max TV).
Fifty years of frights from a low-budget movie filmed outside of Pittsburgh, PA. And a cinematic impact that is still felt today! Happy Anniversary NIGHT OF THE LIVING DEAD!!! Formerly Crappics with Freezer Mortis, Beware Theater with Arachna, and Night Frights with Evelle LeChat – a three day celebration of groovy ghouls from your home for B-movies…and more! Beta Max TV!!!