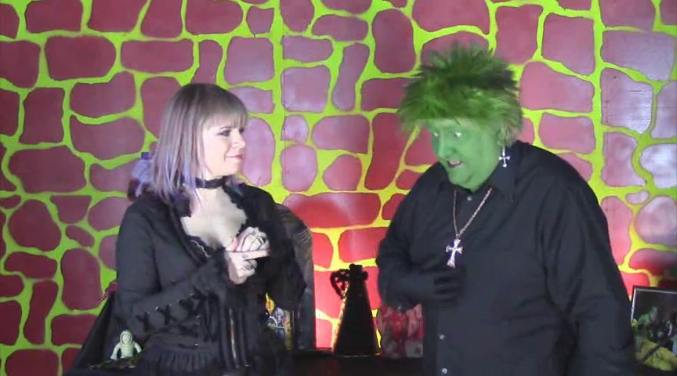 GETTIN' FREAKY ON A MONDAY – THE BORDELLO OF HORROR AND A BRAIN LOVIN' BEASTIE ON BETA MAX TV!!!
Beta Max TV continues the Octoboo-er Halloween celebration with a special Monday edition of The Bordello of Horror. Freakshow and the Bordello bunch welcome the meandering Marijohuana, back from her sojourn with a swamp sitting swami and present the 1962 cerebellum-sucking scarefest THE BRAINIAC! A sorcerer, put to death in the 17th century, returns 300 years later to exact his revenge – a revenge he carries out by turning into a hideous hairy monster with a long forked tongue he uses to suck his victims brains from out of their skulls. Freakshow also has musical guest Electric Revolution perform their song Here We Go.
A Mexican monster munching medulla milkshakes – THE BRAINIAC – on a Monday edition of The Bordello of Horror. It's the first installment of a five day fun, food, and fright fest this week on your home for B(rain)-movies…and more!!! Beta Max TV!!!