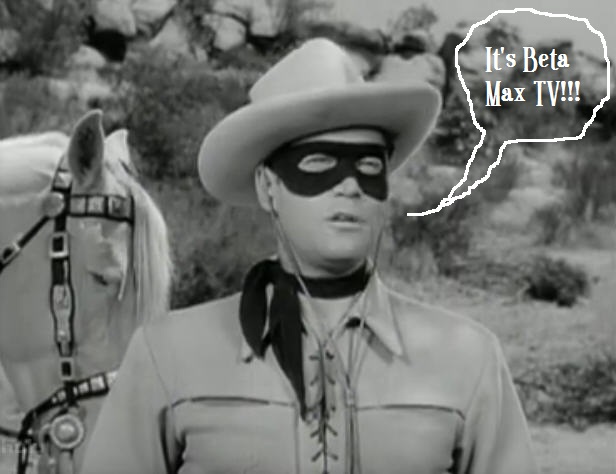 September 17, 2018
GET HEROIC TODAY WITH BETA "MASK" TV!!!
Is evil afoot? Never fear! We've got the heroes to do the job. But not just any heroes – masked heroes – as Beta Max TV becomes Beta "Mask" TV today!
September 15th was actor Clayton Moore's birthday. And of all the roles he played, the one he's most identified with is one of the most famous of all masked heroes – The Lone Ranger! ENTER THE LONE RANGER (1949) tells the story of the Ranger's origins – from being the only survivor of an ambush on his party of Texas Rangers to being nursed back to health by boyhood friend Tonto to Silver the horse, silver the bullet and his pursuit of ambusher Butch Cavendish.
Our second feature has Clayton Moore and a masked hero too, but they're not the same person. Today just happens to be "Monte Cristo Day", so our second masked marvel is THE SON OF MONTE CRISTO.(1940). Louis Hayward plays the son of the original swashbuckling Count and he's got a lot of swash in his buckle too! When an evil dictator seizes power from the Grand Duchess in Lichtenburg, the Count Jr. poses as a foppish banker gain the dictator's confidence while secretly donning a mask to defend the Duchess and regain her throne. And Clayton Moore? He plays Lt. Dorner, head of the palace guard and a friend of the Count who knows all the secret passages in the castle.
Two masks! Two heroes! Two Clayton Moores! And a Count named after a specialty sandwich! We won't mask our enthusiasm! It's action, action, and more action for Beta Mask TV on the place for B-movies…and more! Beta Max TV!