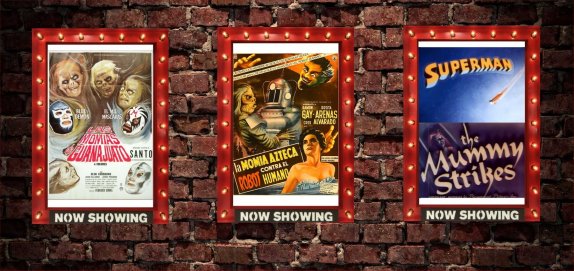 September 10, 2018
MASKED MAULERS AND METAL MONSTERS MEET MUMMIES FOR MAYHEM – MONDAY ON BETA MAX TV!!!
From Mexican Movies to the Man Of Steel – it's Mummies, Mummies, and more Mummies today on Beta Max TV​!!!
Mummies make many miserable as the curse of a long-dead sorcerer takes effect 100 years after his death in THE MUMMIES OF GUANAJUATO (1972). Evil wrestling legend Satan rises from the dead with a mess of mummies to seek revenge on the city of (you guessed it) Guanajuato. But modern day Luchador heroes Mil Mascaras, Blue Demon, and of course, El Santo take up the task of putting an end to the curse.
A curse figures in the investigation of an Egyptologist's murder at a museum and Clark Kent tries to unwrap the mystery in THE MUMMY STRIKES (1943), one of the 17 SUPERMAN cartoons made at Famous Studios. But when King Tush's mummified giant guards are awakened, Superman gets involved!
And sometimes your mummy is your best friend! Well, he's sort of a good guy, anyway, in ROBOT VS. THE AZTEC MUMMY (1958). In this, the third installment of the Aztec Mummy trilogy, we find the evil Dr. Krupp developing a robot with a human brain. He intends to use it to get a valuable Aztec treasure. But the treasure is guarded by a centuries-old Aztec mummy who doesn't like visitors. Sparks and bandages fly when metal monster meets miffed mummy!
Hey kids! Your Mummy's callin' you! Callin' you to watch a Monday myriad of maulers, monsters, and mummies on Beta Max TV!!!