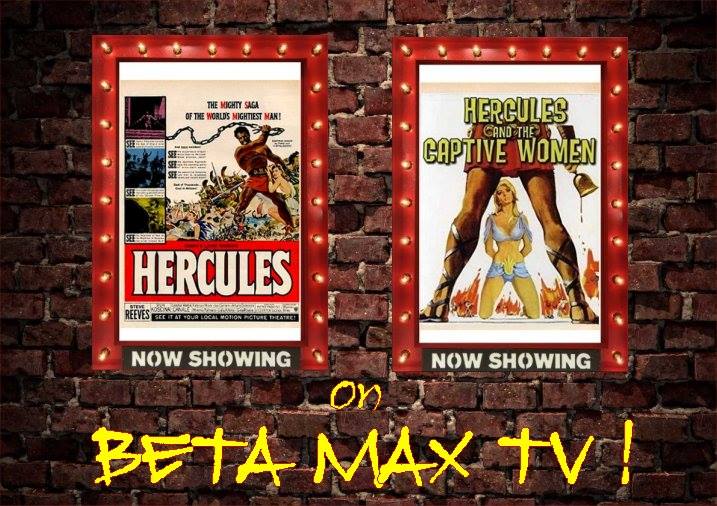 September 3, 2018
JOIN IN FOR THE LABORS (DAY) OF HERCULES ON BETA MAX TV!!!
In Greek Mythology, Hercules was tasked with 12 labors by King Eurystheus as a way to redeem himself for his misdeeds and achieve immortality. This Labor Day, Beta Max TV can't guarantee immortality and you'll have to take care of your own misdeeds, but we can bring you some action-packed movies to wrap up your long weekend!
HERCULES (1958) is the first of a long line of Italian-made movies about the good-guy god and his deeds of derring-do. The first film shot in Italy in the French Dyaliscope anamorphic widescreen system, it follows the trials and tribulations of Herc as he teams up with Jason and the Argonauts as they search for the Golden Fleece. Also know as The Labours Of Hercules, it's the movie that spawned 170 sequels and the one that defined body-builder Steve Reeves' career.
In HERCULES AND THE CAPTIVE WOMEN (aka – HERCULES CONQUERS ATLANTIS, 1961), Reg Park takes the role of Hercules for the first of several times and battles the evil shape-shifting god Proteus to rescue a princess. Upon returning her to her home in Atlantis, he finds her mother the Queen (played by film veteran Fay Spain) is planning world conquest by creating a race of supermen using special powers of a stone made from blood from Uranus (I think there's a salve for that now). Of course, Herc has something to say about that!
It's a labor of love to bring you the labors of Hercules for your Labor Day weekend. And where else could you find it but Beta Max TV!