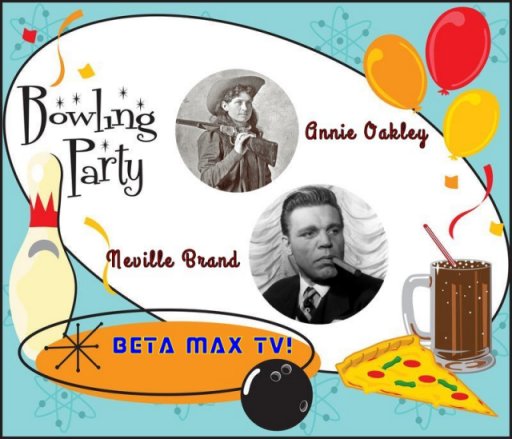 August 13, 2018
BIRTHDAYS AND BOWLING ON BETA MAX TV!
Solid party good-times as Beta Max TV​ marks special occasions that highlight today's date!
August 13 marks the birthday of Phoebe Ann Mosey, better known as the Queen of the Wild West Show, sharp-shooting sugar Annie Oakley! This superstar show woman inspired a range of movie and television representations of her life, including a series that ran for three years – 1954-1957. Beta Max TV presents Gail Davis as the title character in an episode of ANNIE OAKLEY from 1954 to celebrate the life of the colorful markslady known as "Little Sure Shot"!
From bullets to… even more bullets as Beta Max TV pays a birthday tribute to Neville Brand, one of the most prolific character actors of the big and small screens! Brand's brand was as the heaviest of heavies and toughest of tough guys. Here we're featuring Mr. Brand in his signature television role – as the notorious Al Capone – in a feature-length installment of THE UNTOUCHABLES from 1960 entitled ALCATRAZ EXPRESS. With Robert Stack as G-Man Eliot Ness, you can be certain there will be plenty of Nitti gritty on display!
This past Saturday marked National Bowling Day, so if that recreation is up your alley, pin yourself down and have a ball with an episode of the popular sports show BOWLING TIME! From 1955, this frame features guest star Dr. Joyce Brothers who had recently displayed her sports aptitude on the $64,000 Question!
Birthday bullseyes, Brand, and bowling – a party on target for your Monday on Beta Max TV!