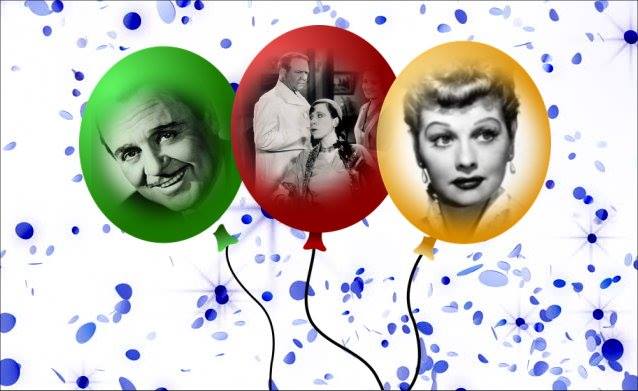 CELEBRATE BIRTHDAYS AND FRESH BREATH TODAY WITH BETA MAX TV!!!
Here at Beta Max TV, we love a party and we love sweet-smelling breath. So today, we're going to celebrate the birthdays of two beloved show biz figures and good dental hygiene.
Leo Carrillo was born August 6, 1881. He appeared and starred in numerous films from the silent era through the 50s, but his best remembered, and longest, role was that of Pancho, the sidekick of The Cisco Kid in the television series of the same name. In the episode entitled BOOMERANG (1950), two bandits in the midst of a crime spree are impersonating Cisco and Pancho. The boys soon find themselves in hot water with the law and must trail and capture the bandits to clear their names.
While Duncan Renaldo ("The Cisco Kid") was the first Hispanic actor to star in a television series, the long-time husband (Desi Arnaz) of our other birthday star was the second. Lucille Desiree Ball was born this day in 1911 in Jamestown, NY. Like Carrillo, she also appeared in numerous movies as a bit character and as a star in the 30s and 40s, but her star's shine reached a huge audience through television due to her association with a character created especially for her – a wacky redhead named Lucy! The most famous incarnation of course was in "I Love Lucy", with the character changing names and pasts as time moved on through other shows, the most successful "sequel" being "The Lucy Show". In this episode, Lucille Ball is reunited with her "I Love Lucy" co-hort Vivian Vance when VIV VISITS LUCY (1967), and the two of them go undercover as hippies to try to find a friend of Viv's they fear has been led astray by the Beatnik culture. (It's completely *not* as serious as it sounds.)
Finally, with all these birthdays and the parties and the goodies involved, it's probably good to remember that today is also National Fresh Breath Day. So to keep it minty fresh, it's off to THE DENTIST (1932) starring W.C. Fields as an unorthodox orthodontist who after an interesting round of golf heads back to the office to treat a parade of unusual patients with equally unusual methods. Imm-oral surgery, one could say.
So today you can have your cake and eat it too – just don't forget to brush! It's a celebration of birthdays and fresh breath on the place for B-movies…and more. Beta Max TV!!!