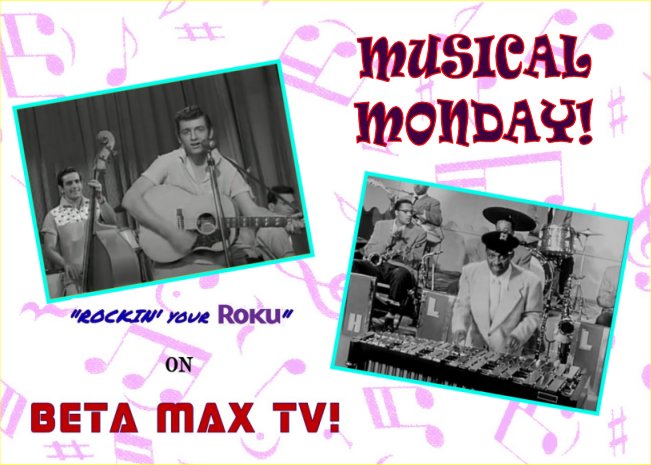 July 16, 2018
A TOE-TAPPIN' TWO-FER!!!
IT'S MUSICAL MONDAY ON BETA MAX TV!!!
Push back the furniture and roll up the carpets cuz you're gonna be flat-out dancing for today's double dip of delightful decibels! It's MUSICAL MONDAY on
Beta Max TV
and we've got two terpsichorean tidbits filled with a rockin' rainbow of revelry. And one even has a plot…sort of.
CARNIVAL ROCK (1957) is one of the earlier efforts from our B-movie buddy, producer/director Roger Corman. Christy runs a nightclub with some good music in a sort of permanent carnival. He's kinda shifty, kinda sleazy and not a very good businessman. And he's got "eyes" for singer Natalie. But Natalie has her cap set for Stanley, a "businessman" – pronounced "gangster" – who not only wants Natalie but the nightclub as well. He gets both and Christy decides to get something too. Revenge! This complex plot is accented by some killer club scenes with performances from Bob Luman and His Shadows, David Houston, The Platters, and The Blockbusters.
RHYTHM AND BLUES REVIEW is just what it says in a BIG way! A star-studded cavalcade of some of the biggest stars from the big band era right through the Rhythm and Blues explosion of the mid-1950s. Master of Ceremonies Willie Bryant presents musical marvels Count Basie, Cab Calloway, Lionel Hampton, Nat "King" Cole, Ruth Brown, Amos Milburn, Big Joe Turner (with the original Shake, Rattle and Roll), Sarah Vaughn, and many more as well as several classic comedians including the legendary Mantan Moreland and some early work from Nipsey Russell. No plot here! Just solid entertainment!
MUSICAL MONDAY on Beta Max TV. It'll give your toes a workout!!!