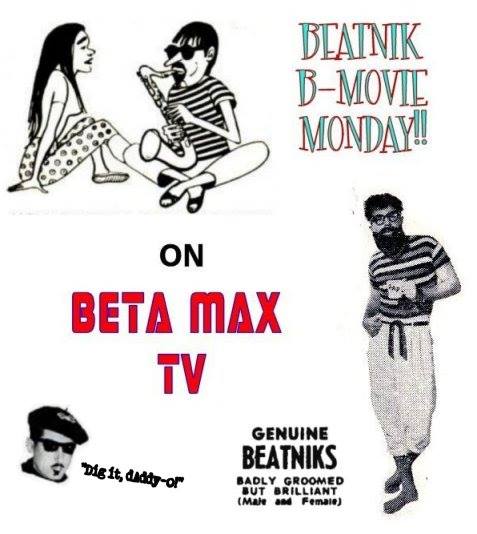 BEAT MONDAY BLAHS WITH BEAT MONDAY ON BETA MAX TV!!!
Monday get ya down? The thought of another one sending you to Nowheresville? Swing on by Beta Max TV for BEAT MONDAY and beat Monday with a barrage of Beatnik B-movies,
Get real gone with THE REBEL SET (1959), a beatnik bust-out for big-time crime. Mr. Tucker (aka Mr. T) owns a beat (in a the good way) coffee house and has an eye for bread – the green kind they keep in banks. He hires 3 down-and-outers and plans a bank heist to happen during a Chicago layover on an LA to NYC train trip. But greed pops in and the plans pop out. Featuring Edward "Get Smart" Platt as Mr. T.
Then Columbo goes criminal in THE BLOODY BROOD (1959). Peter Falk plays Nico, a moody beatnik who enjoys 3 things – selling drugs to other beatniks, spouting philosophy about the world, and being criminally sadistic. When Nico kills a delivery boy just for kicks, the boy's brother goes beatnik to try to find his brother's killer. A Canadian production, THE BLOODY BROOD also stars well-known spaghetti western actor Jack Betts.
Leave the cubes behind and head for a way-out orbit with the cool cats and chicks. Make the scene for BEAT MONDAY at the utmost place for B-movies and more! It's like crazy, man! It's Beta Max TV!!