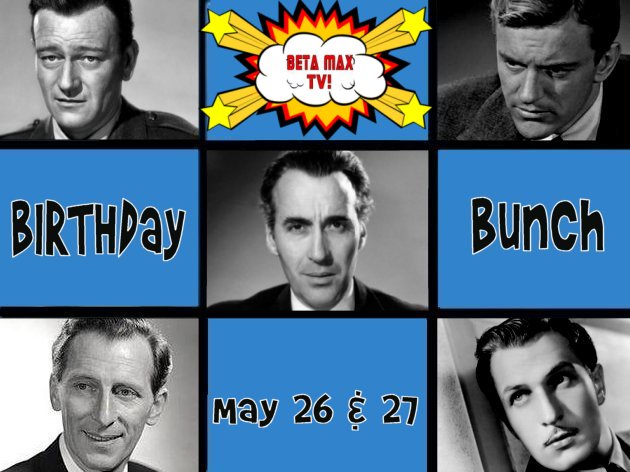 MAY 28, 2018
MONDAY is THE BIRTHDAY BUNCH on BETA MAX TV!
We're celebrating End Of May Birthdays on Beta Max TV with an "out-of-character" salute to five icons!
Start out with croonin' Duke! John Wayne (born May 26, 1907) stars as "Singin' Sandy" in RIDERS OF DESTINY from 1933! This early outing by filmdom's most historic Western star was only the second time Hollywood produced a "singing cowboy" film. (The Duke is dubbed, but the trend was set!)
Included extra: John Wayne introducing the groundbreaking, long-running TV Western GUNSMOKE, leading in to our spotlight on James Arness (born May 26, 1923)! Before he went on to become Marshal Matt Dillon, Jim made appearances in many big screen productions, among them the 1947 noir crime drama ROSES ARE RED, which we're featuring today in his honor! (It's a supporting role, but at 6'7″, Jim is pretty tough to overlook no matter what the production!)
The Birthday Bunch also includes the grand-slam "Trio Of Terror" out of character! Pour yourself a jigger of Victory Gin, disable the telescreen, and tune in to Beta Max TV for Peter Cushing (born May 26, 1913) starring as Winston Smith in a chillingly effective 1954 teleplay of George Orwell's NINETEEN EIGHTY-FOUR!
The genre-jumping continues with Cushing's friend Christopher Lee (born May 27, 1922), whose career included a spate of films beyond the realm of horror, sci-fi, and fantasy… including today's feature, a tune-filled tale of teen rebellion and angst where Sir Chris stands out as a sleazy strip club manager in BEAT GIRL from 1960!
Finally, never to be overlooked, moviedom's master of the macabre, Vincent Price (born May 27, 1911), joins a panel of celebrities for PANTOMIME QUIZ, an early entertainment game show with charades-filled, fast-action fun! As a special birthday bonus, we're also highlighting Vinnie's first starring go-round in a thriller – as a shrink of questionable character in 1946's suspense noir psych-drama SHOCK!
(End of) MAY the fest be with you as we celebrate the birthdays of five fantastic icons! Join the party with us today on Beta Max TV!