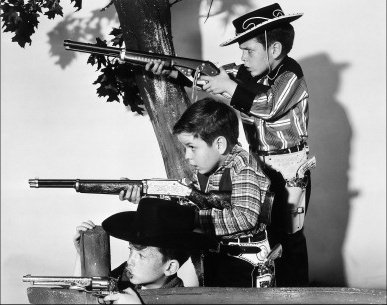 May 9, 2018
WAHOO!!! IT'S WILD WEST WEDNESDAY!!!
Welcome to Wild West Wednesday on Beta Max TV​! Today we're gonna head 'em up and move 'em out to your TVs with three action-packed western features!
We kick it off with BOOT HILL (1969) featuring Terence Hill and Bud Spencer as a couple of gunmen who team up with circus performers to rid a town of an evil mining boss named "Honey" – a sweet role indeed as portrayed by Victor Buono!
Next, Bud Spencer returns in a supporting role in the 1968's BEYOND THE LAW. Lee Van Cleef saddles up in the lead as a reformed bandit turned sheriff dedicated to cleaning up the town… or cleaning out the town of its silver stores!
Finally, again we corral Lee Van Cleef… and Lee Van Cleef (he plays two roles) in GOD'S GUN (1976), where the Van Cleef twins play a priest and a reformed gunfighter trying to thwart Jack Palance and his evil banditos. Throw in Leif Garrett for good measure, depending on how you define "good". Do the Van Cleef twins have a prayer against the force that is Jack Palance?
So mosey on over to Beta Max TV, pardner, for Wild West Wednesday. It's a fistful of fun!