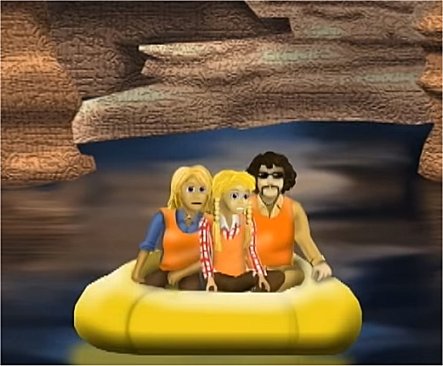 APOLOGY NONE DAY MONDAY IS BACK
WITH EPISODE ONE OF SATUR-DELIA!
Beta Max TV​ is totally animated to take yet another joint venture into the far-out with psychedelic rock's grooviest cartoon band, Apology None​!!
The Fabtastic Five are back to take Monday to the Saturdays of the seventies in their most epic episodic trip-lash … SATUR-DELIA!
The weird world of wonder inspired by Sid & Marty Krofft​ is the setting for our heroes' series of (mis)adventures through what may be **very** familiar territory to fans of the live-action Saturday morning psych-fest the Krofft brothers team produced in such a varied array for pop-culture posterity! (And when it comes to posterity, the folks at Beta Max TV are totally on it!)
SATUR-DELIA is chock-full of vivid visuals, with a healthy portion of comedy, a flavoring of surprise guests…and of course, a very colorful dose of that groovetastic Apology None music!
Today – the FIRST adventure!… Beta Max TV will be showing SATUR-DELIA in its serial form, so stay TOONED throughout the weeks to view each episode, **specially introduced** by (Apology) None other than front man Terry Summer​!
"Toon on and trip out" today with EPISODE ONE of SATUR-DELIA for Apology None Day Monday! A fun day? That's EVERY day on Beta Max TV!!