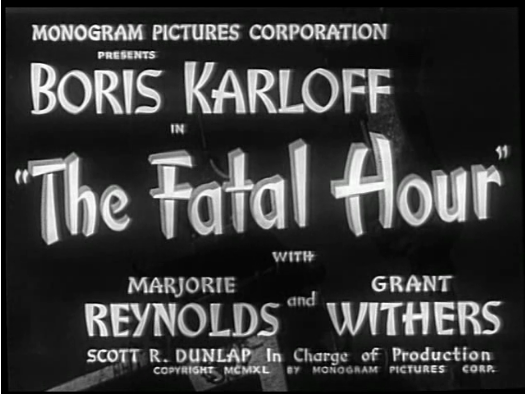 BORIS KARLOFF AND JEWEL SMUGGLING FOR MURDER MYSTERY MONDAY MAYDAY!!!
Intrigue, jade, and corpses piling are the ingredients for THE FATAL HOUR as we kick off the new month with Murder Mystery Monday Mayday.  When a policeman investigating a jewel smuggling ring in San Francisco turns up dead floating in the bay, the Captain Street (Grant Withers) calls in master detective Mr. Wong (Boris Karloff) and ace reporter Bobbie Logan (Marjorie Reynolds) for help in a very complex case that seems to point at a local gang but just might lead elsewhere as the body count increases. (1940)
It's the fourth in the Mr. Wong detective series – THE FATAL HOUR – and it's here for Murder Mystery Monday Mayday on your home for B-movies… and famous sleuths!  Beta Max TV!!!