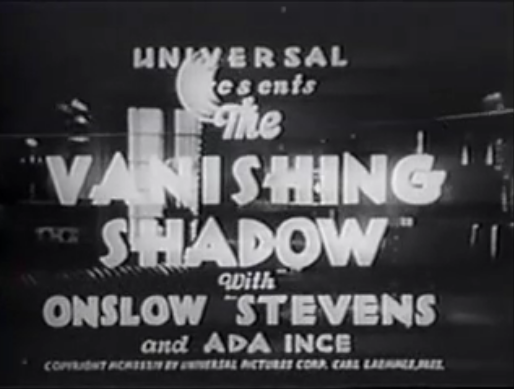 RAY GUNS, INVISI-BELTS, AND REVENGE – THE VANISHING SHADOW – TODAY ON DON'S BREAKFAST SERIAL!!!
Revenge is on tap as Don's Breakfast Serial brings you the first 5 chapters of the 1934 Universal serial THE VANISHING SHADOW.  Inventor Stanley Stanfield (Onslow Stevens) develops several amazing devices – including a ray gun and a vanishing ray belt that leaves only the user's shadow visible.  And he puts these fantastic implements to use as he tries avenge his father's death caused by some powerful and corrupt business men. Plus Don's got cartoons from Farmer Alfalfa and Scrappy.  It's early hi-tech sci-fi action – and perhaps the first film appearance of a hand-held ray gun ever!
Immerse yourself in mystery and drama with a sci-fi garnish as Don's Breakfast Serial presents THE VANISHING SHADOW on you home for B-movies…and nifty gadgets!  Beta Max TV!!!