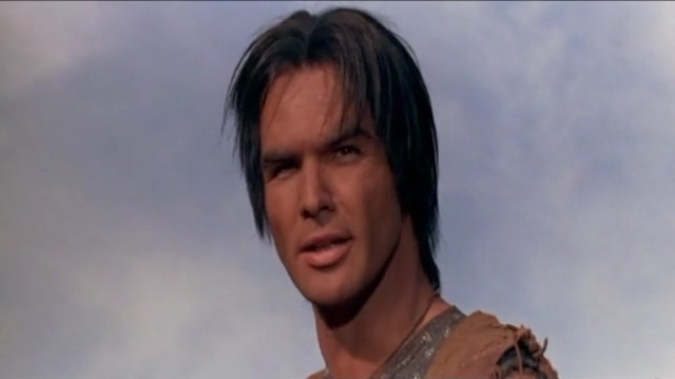 HAPPY BURT-DAY, MR.REYNOLDS!!!
Burton Leon Reynolds, Jr. was born on February 11, 1936 in Lansing, Michigan. After attending Florida State University on a football scholarship, he turned to acting in various plays and eventually television and movies starting in 1958. Amassing over 200 acting credits and well over 200 appearances in TV shows as himself, his first major break came as blacksmith Quint Asper in the Gunsmoke television series. To celebrate the birthday of one of our favorite straight-shootin', fast-drivin'. fun-lovin' actors, Beta Max TV presents the movie that gave Burt his first staring role on film.
NAVAHO JOE stars Reynolds as a Navaho warrior seeking revenge on the vicious band of blood-thirsty bandits who, on their way to rob a government train full of cash, massacre Joe's entire village. This 1966 Dino De Laurentiis production with music from Ennio Morricone and directed by Sergio Corbucci – and the only spaghetti western Burt ever starred in – is true to its roots with tons of high-powered action and fighting and a gorgeous female lead (here played by Nicoletta Machiavelli).
From Gunsmoke to White Lightning, Smokey and the Bandit, Cannonball Run and maybe a few (dozen) other movies (including All Dogs Go To Heaven), Burt Reynolds was always ready with an iron fist, a cool attitude, and a sly smile. So HAPPY BURT-DAY MR. REYNOLDS from your home for B-movies…and more! Beta Max TV!!!