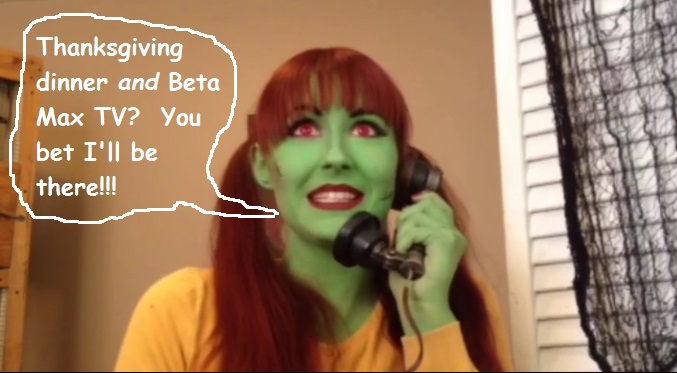 November 19, 2018
AN EXTRA REASON TO GIVE THANKS THIS WEEK – THE MY GAL THE ZOMBIE THANKSGIVING SPECIAL ON BETA MAX TV!!!

Pilgrims, turkeys, a red-headed zombie girl – holiday traditions…ya gotta love 'em! And we have some great ones to kick off Thanksgiving Week as Beta Max TV brings you that real gone green girl in The My Gal, The Zombie Thanksgiving Special. Our zombie gal can't make it to the show today (she had to call in dead), but her friend Patricia dropped in to share some Turkey Day treats! There's a hungry pilgrim having very little luck pursuing a wacky turkey in Jerkey Turkey, a couple classic Thanksgiving shorts, a big bowlful of trailers and a sumptuous slice of the My Gal, The Zombie Christmas Special!
You serve up your three bean casserole and we'll serve up our one green gal! Get the Thanksgiving spirit rolling with The My Gal, The Zombie Thanksgiving Special on Beta Max TV!!!