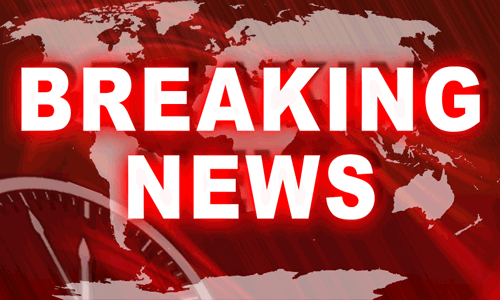 MAY 12:  UNCLE FESTER, GIANT SPIDERS, AND ARACHNA – TODAY ON BEWARE THEATER!!!  Check out the News tab's top story for more details!
MAY 10:  THE VALLEY OF VANISHING MEN – PART 2 TODAY ON DON'S BREAKFAST SERIAL!!!  Check out the News tab's top story for more details!
#  #  #

FRIDAY, MAY 7, 2021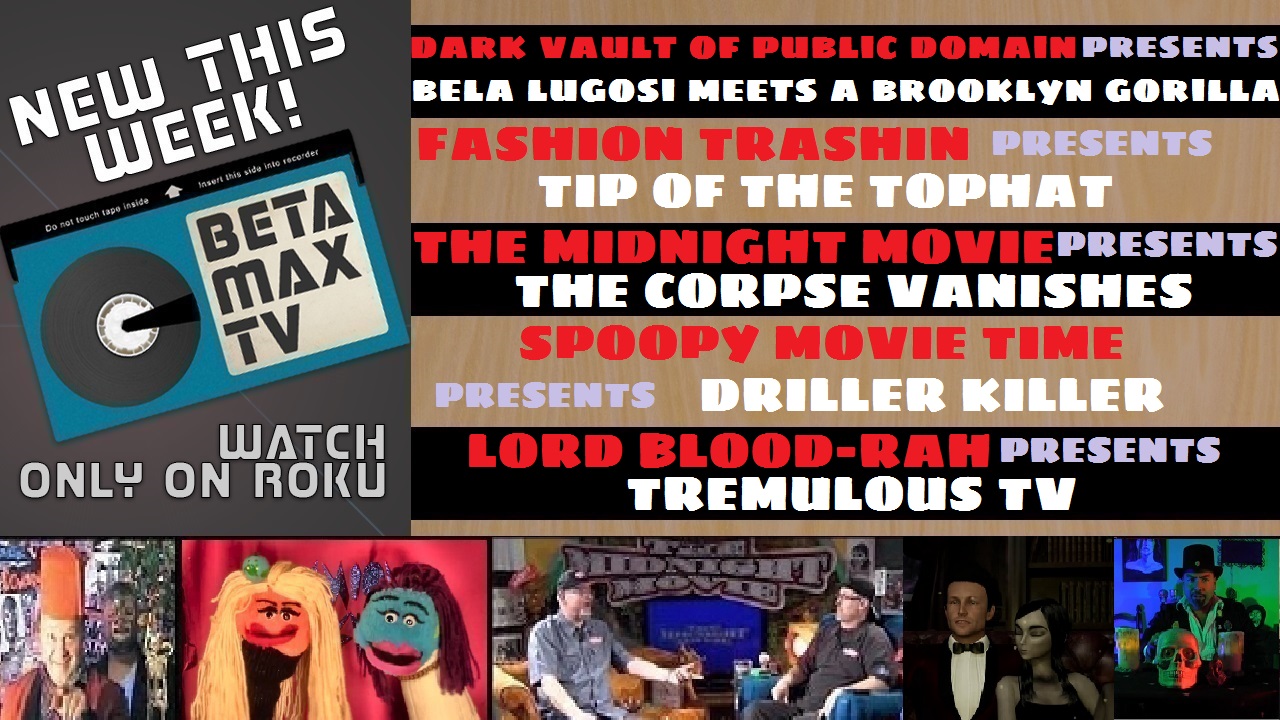 LET'S GRAB A BITE TO EAT AND WATCH TV – WITH A GORILLA AND A MAD DOCTOR AND A PSYCHOPATH – TODAY ON THE FRIDAY FUN-TIME FIVE!!!
We've got an interesting guest list for any dinner party on this week's
Beta Max TV
FRIDAY FUNTIME FIVE!!!
There's an exotic island, a mad doctor, a gorilla, and romance when
Uncle Pete
presents
BELA LUGOSI MEETS A BROOKLYN GORILLA
on
The Dark Vault Of Public Domain
. Two goofy entertainers (a Dean Martin and Jerry Lewis clone team) meet a mad scientist on a jungle island with ideas of turning someone into a gorilla. (1952) Uncle Pete has a flashback to his days hosting a phone-in radio advice show!
Got your refund back yet? Cinnamon and Diamond do on
Beaucoup Askew
's
Fashion Trashin
episode
TIP OF THE TOPHAT
. Cinnamon and Diamond just got a big refund so it's off to celebrate at the swankiest restaurant in Hawlywood, Tip Of The Tophat, but that might not be their last stop!
Is that wedding bells we hear for Triv and the gang on
The Midnight Movie
? Well, on
THE COPRSE VANISHES
, Bela Lugosi pops up again, this time as a mad scientist who kidnaps and kills young brides to extract a secret gland fluid to keep his aged wife young. (1942)
Want to invite an interesting artist to your dinner party? Tell him to leave his power tools home unlike the one in DRILLER KILLER on Spoopy Movie Time. Alister and friends feature one of the British video nasties about an artist, cracking from stress, who takes to the streets to kill with a drill! (1979)
And after all that entertaining, how about some nice – and scary – television with
Lord Blood-Rah's Nerve Wrackin' Theatre
presentation of
TREMULOUS TV
! Lord Blood-Rah features some terror-filled Golden-age TV shows including Tales From Tomorrow, One Step Beyond, and Suspense.
So come to our dinner party and bring some wine – blood red, of course – for the
FRIDAY FUN-TIME
on your home for B-movies…and tasty treats!
Beta Max TV
!!!
FRIDAY, APRIL 30, 2021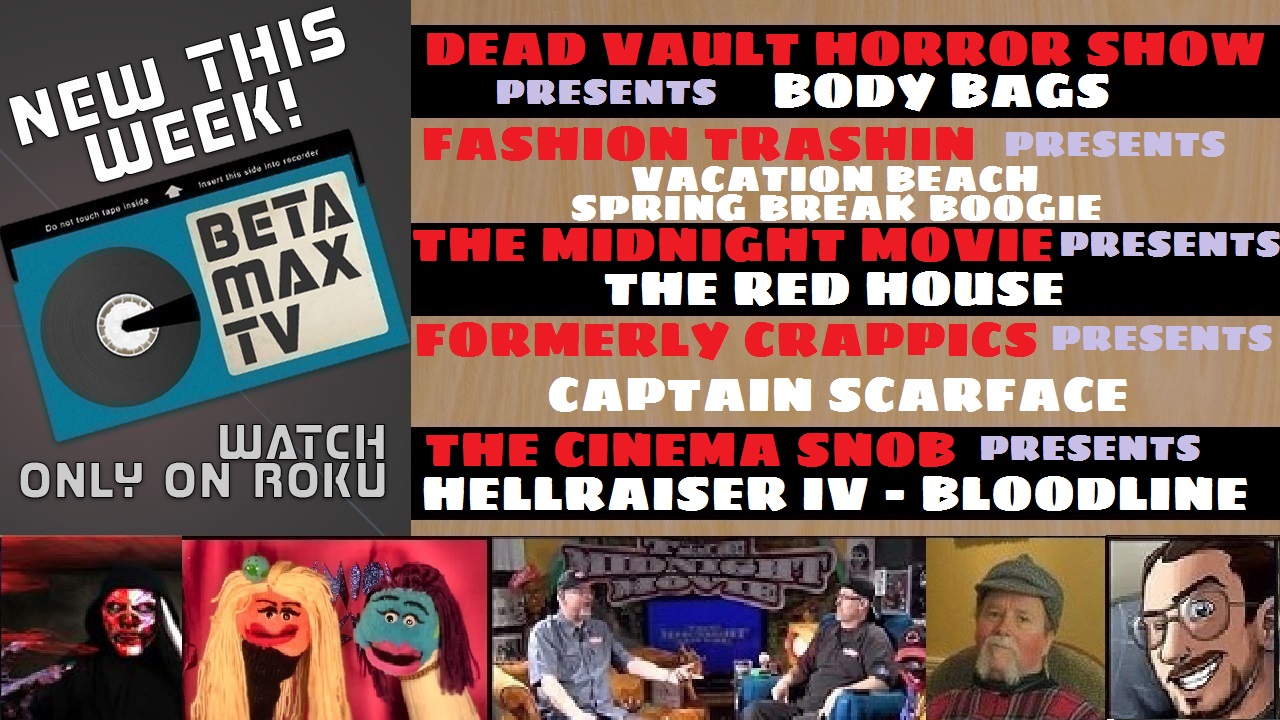 FEAR AND FUN ON THIS WEEK'S FUN-TIME FIVE!!!
Drinking at the beach and demons in space – of course it must be the Beta Max TV FRIDAY FUN-TIME FIVE!!!
Keymaster Slasher Poe cleans up after himself and keep things neat with BODY BAGS on The Dead Vault Horror Show.  This 1993 TV horror/comedy anthology features 3 stories directed by John Carpenter and Tobe Hooper featuring Stacy Keach, Mark Hamill, Debby Harry, and Sheena Easton.
Hosting a TV show is hard work so sometimes you need a vacay!  This week on Beaucoup Askew's Fashion Trashin, It's Spring Break, so Cinnamon and Diamond head to Vacation Beach for fun!  Plus as a musical extra, it's Brieyonce with her annoying hit that grows on you – Swiss Kiss.
Head to the theater with the gang on The Midnight Movie with THE RED HOUSE, a 1947 spooky Edward G. Robinson horror film. A man and his sister are hiding something dark in an abandoned house hidden deep on their property.and will protect this secret at all costs!
Join Freezer Mortis on Formerly Crappics for action and danger with CAPTAIN SCARFACE, a 1953 film about a group of people needing to flee South America aboard a ship captained by a strange and dangerous man who has plans for mass destruction on an atomic scale!
If off for Pluto, the Moon, and TERROR as The Cinema Snob features HELLRAISER IV – BLOODLINE.  The Snob hits outer space for a review of the 1996 fourth installment in the Hellraiser series.
Evil here, evil there, and a whole lot of fun too on the FRIDAY FUN-TIME FIVE from your home for B-movies…and variety!  Beta Max TV!!!