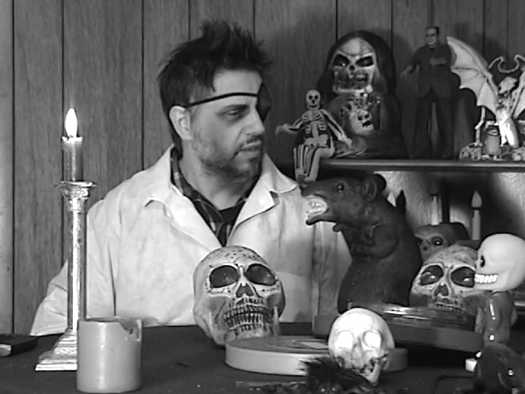 TVs TAKE OVER AND DR. DRECK WALKS OFF ON THIS WEEKS DUNGEON OF DR. DRECK!!!
Things are topsy-turvy on Beta Max TV this week in The Dungeon Of Dr. Dreck! Moaner the Zombie Cheerleader has called in well leaving Dr. Dreck to host the show alone. But when Stu the Rat tells the doctor that the show is nothing without Moaner, he gets upset and walks off leaving Stu – aka "Dr. Stu" to host the show. Stu recruits Shrunken Ed as a co-host and they present the 1953 sci-fi/fantasy/comedy THE TWONKEY!. When a professor's wife needs to take a trip, she leaves her husband a new television to keep him company. But he soon finds that the TV is possessed by a strange entity from the future and it begins to control his life. This cautionary tale of the dangers of TV stars Hans ConrIed and was written by Arch Oboler, creator of the legendary horror/mystery radio serial Lights Out!
"Dr. Stu" and Shrunken Ed do their best at hosting (and their best is not all that great) and Madame Nicotina has another go at trying to contact the ghost of Harry Houdini – this time using a brandy "sniffer" in place of her broken crystal ball.
So tune in for the new (but not for long) hosts Stu and Shrunken Ed as they replace Dr. Dreck and Moaner in The Dungeon Of Dr. Dreck presentation of THE TWONKY on your home for B-movies…and truly evil televisions! Beta Max TV!!!